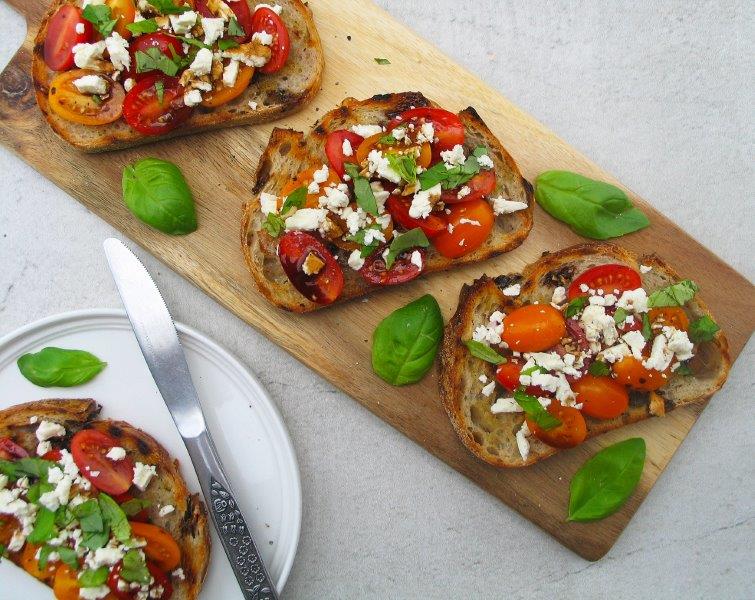 Bruschetta is one of my quick go-to lunches! It's fresh, healthy and cherry/grape tomatoes are so sweet they pair perfectly with the feta!
Serves 2
Ingredients-
4 slice of sourdough bread
2 tbsp of extra virgin olive oil (basil-infused is delicious too)
1 garlic clove, halved
200g of mixed tomatoes, chopped (cherry, grape, solanato)
60g marinated feta crumbled
1/4 bunch fresh basil leaves torn
2 tbsp of Balsamic vinegar
salt and pepper for seasoning
Method-
Step 1. Brush one side of the bread with the oil. Heat a chargrill pan over medium-high heat. Toast the bread in the pan (oil-side down) for 3-4mins or until golden and toasted.
Step 2. Rub the toasted side with the cut garlic glove and place on plates.
In a bowl, place the chopped tomatoes and torn basil. Season with salt and pepper and mix through.
Step 3. Spoon the tomato and basil mixture over the bread. Crumble the feta over the toast and drizzle with balsamic vinegar to taste.
Enjoy!
Did you know that what you eat plays a big role in your mental health?
Try checking this Mind Movement Health Podcast episode to learn more: