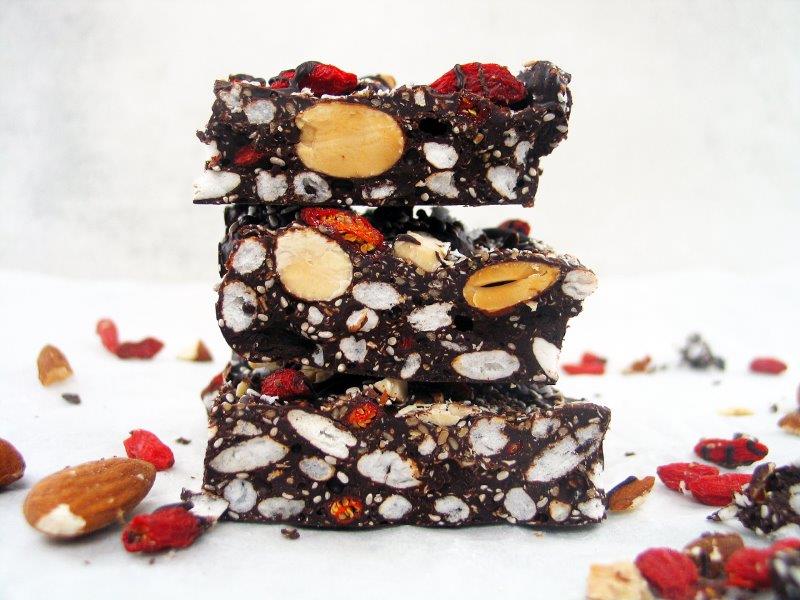 I'm a self-confessed chocoholic! I love chocolate, especially dark chocolate so if I can find a healthy treat that includes chocolate then I'm one happy gal!!
This slice is so simple to make and tastes so delicious that you will find it hard to stop at once piece.
Choc-full of nuts, goji berries and chia seeds it's the perfect blend of health and treat in one slice.
Makes approx. 16 squares
Ingredients-
1 C Puffed rice
1/2 C roasted almonds
1/4 C chia seeds
1/3 C shredded coconut
1/4 C goji berries
200g melted dark chocolate (min. 70% cocoa solids if possible)
1 tsp coconut oil
Method-
Step 1. Grease a square 20cm X 20cm baking tin and line with baking paper.
Place the dark chocolate (broken in to pieces) along with the tsp of coconut oil in to a heatproof dish. Place in the microwave for short 30 second bursts until the chocolate and coconut oil has melted and is smooth. Stir frequently to ensure all the chocolate has melted. *
Reserve 1/4 C of melted chocolate and set aside.
Step 2. Add the puffed rice, almonds, chia seeds, shredded coconut and goji berries to the chocolate mixture and stir until mixed through.
Pour in to the lined tin.
Step 3. Pour over the reserved 1/4 C of melted chocolate and smooth the top with a spatula.
Sprinkle with extra coconut, goji berries, almonds and chia seeds and place in the fridge for a minimum of 2 hrs.
Step 4. Remove from the fridge, cut in to 16 squares and enjoy!
*Alternatively melt the chocolate via the stove-top method.