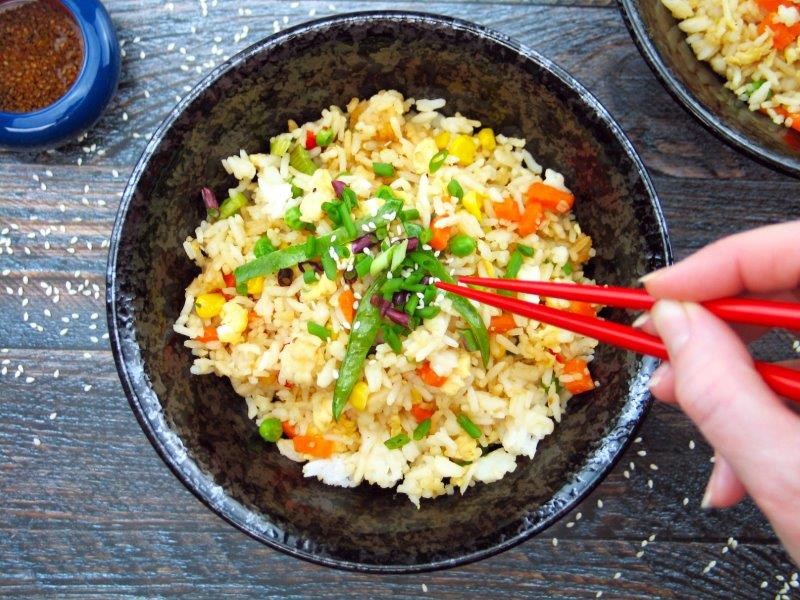 Fried Rice is so delicious and so easy to make. It's also a great meal to pack heaps of veggies in to.
This is my vegetarian version but feel free to add the protein of your choice or omit the egg for vegan-style.
It's a definite family favorite in our house! Even my little ones love it.
Serves 4 or 6 as a side
Ingredients-
2 C of long-grain rice
Water for cooking
3 tbsp rice-bran oil
 2 free-range eggs, beaten
1-2 carrots finely diced
1/2 C frozen corn
1/2 C frozen peas
10-15 snow peas, thinly sliced
2 spring onions, thinly sliced
1 red chilli thinly sliced
1/3 C soy sauce
1 tbsp of sesame oil
2 tbsp toasted sesame seeds for serving (optional)
Method-
Step 1. Cook 2 cups of white rice via the stove top method, rice cooker or microwave.
Transfer the cooked rice to a baking tray, spread out and allow to cool to room temperature. Cover and refrigerate until cold (at least 30 mins).
Step 2. To make the fried rice, heat 1 tbsp rice-bran oil in a large wok over medium-high heat. Add the eggs and stir with a fork for 30 seconds or until just cooked. Remove the eggs and set aside.
Step 3. Heat the remaining 2 tbsp rice-bran oil in the wok over medium-high heat. Add the carrots and stir-fry for 2 minutes. Add the corn, peas and snow peas and stir-fry fr 1 minute.
Add the cold rice and stir fry for 2 minutes.
Step 4. Stir in the eggs, 3/4 of the spring onions and chilli. Add the soy sauce and sesame oil and continue to stir-fry for 1 minute or until heated through.
Step 5. Served garnished with extra spring onions and toasted sesame seeds.
Enjoy!
Did you know that what you eat plays a big role in your mental health?
Try checking this Mind Movement Health Podcast episode to learn more: