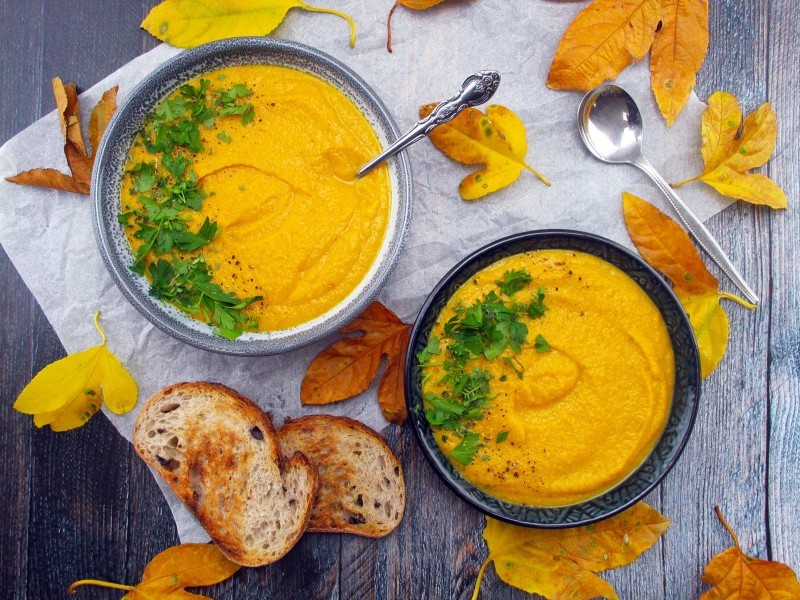 This is my new favourite and provides amazing nutrition for boosting immunity and reducing inflammation.
Ingredients-
1 butternut pumpkin
1 head of cauliflower
1 tablespoon of Olive oil plus extra for drizzling
1.5 litres of vegetable stock
1 teaspoons of ground cumin + extra for sprinkling on veg for roasting
1 teaspoons of turmeric + extra for sprinkling on veg for roasting
3 cloves of garlic (crushed)
1 diced Onion or 2 diced spring onions
Salt and pepper to taste
Method-
Step 1.Set oven temperature to 180 degrees.
Slice butternut pumpkin in half, drizzle with olive oil, sprinkle with cumin and turmeric and roast in oven for 45 mins.
Step 2. While the pumpkin is roasting, cut the cauliflower in to pieces and place on baking tray. Drizzle with olive oil and sprinkle with cumin, salt and pepper.
Once the pumpkin has had 45 mins in the oven, add the cauliflower and roast for 35 mins along with the pumpkin.
Step 3. Meanwhile, add 1 tablespoon of olive oil to a deep pan on medium heat, add the diced onion and 3 gloves of crushed garlic. Cook until onions start to turn translucent , add 1 teaspoons of ground cumin and 1 teaspoons of turmeric and cook for 2 mins.
Add 1.5 kg of vegetable stock and once it has come to the boil reduce the heat to simmer for 10 mins. Scoop out the roasted pumpkin and add it to the pan along with the roasted cauliflower. Simmer for another 10 mins.
Step 4. Using a stick blender or thermomix, blend until a smooth consistency.
Eat and enjoy!
Did you know that what you eat plays a big role in your mental health?
Try checking this Mind Movement Health Podcast episode to learn more: