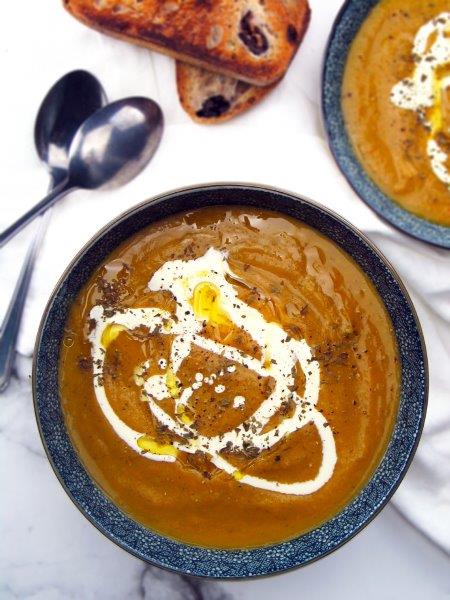 This a a great Winter Warmer! Such a delicious and hearty soup to snuggle up with on a cold day.
The roasting of the veggies adds a depth of flavour that makes it even more delicious.
Serve with some crusty bread and it's the perfect meal!
Serves 5
Ingredients-
500g Sweet Potato, peeled and chopped
1 onion, finely chopped
2 carrots, roughly chopped
1 bulb of Garlic, top end cut off
4 tbsp Olive Oil
500g Broccoli (stems included), roughly chopped
1 L of Vegetable stock
2 C of water
Salt and pepper to taste
Method-
Step 1. Preheat the oven to 180°. Place the chopped sweet potato and carrot on a baking tray. Drizzle over the 3 tbsp of olive oil and rub over the veggies. Sprinkle with salt and pepper.
Wrap the bulb of garlic in foil and place on the baking tray with the sweet potato and carrot. Place in the oven for 40 mins or until cooked through.
Step 2. Roughly chop the broccoli and set aside. Once the vegetables are roasted, remove from the oven and set aside. Allow the garlic bulb to cool.
Step 3. Using a large pot, add 1 tbsp of olive oil and the chopped onion. Place on medium heat for 2-4mins until the onion turns translucent.
Add the roasted sweet potato and carrot and squeeze out the roasted garlic in to the pot. Add the broccoli, vegetable stock and water and bring to a simmer.
Simmer for 15mins.
Step 4. Remove from the heat and using a thermomix/stick blender blend until smooth.
Serve with a drizzle of olive oil/cream, salt and pepper.
Enjoy!
*Note: If using a glass blender to blend, ensure the contents have cooled as hot liquids may cause the blender to shatter.
Soup is a great option for those who experience gut/food intolerance issues.
Check out this Mind Movement Health Podcast episode for other ways to improve your digestion.
MMH #7- Better digestion: 5 Easy ways to help beat the bloat