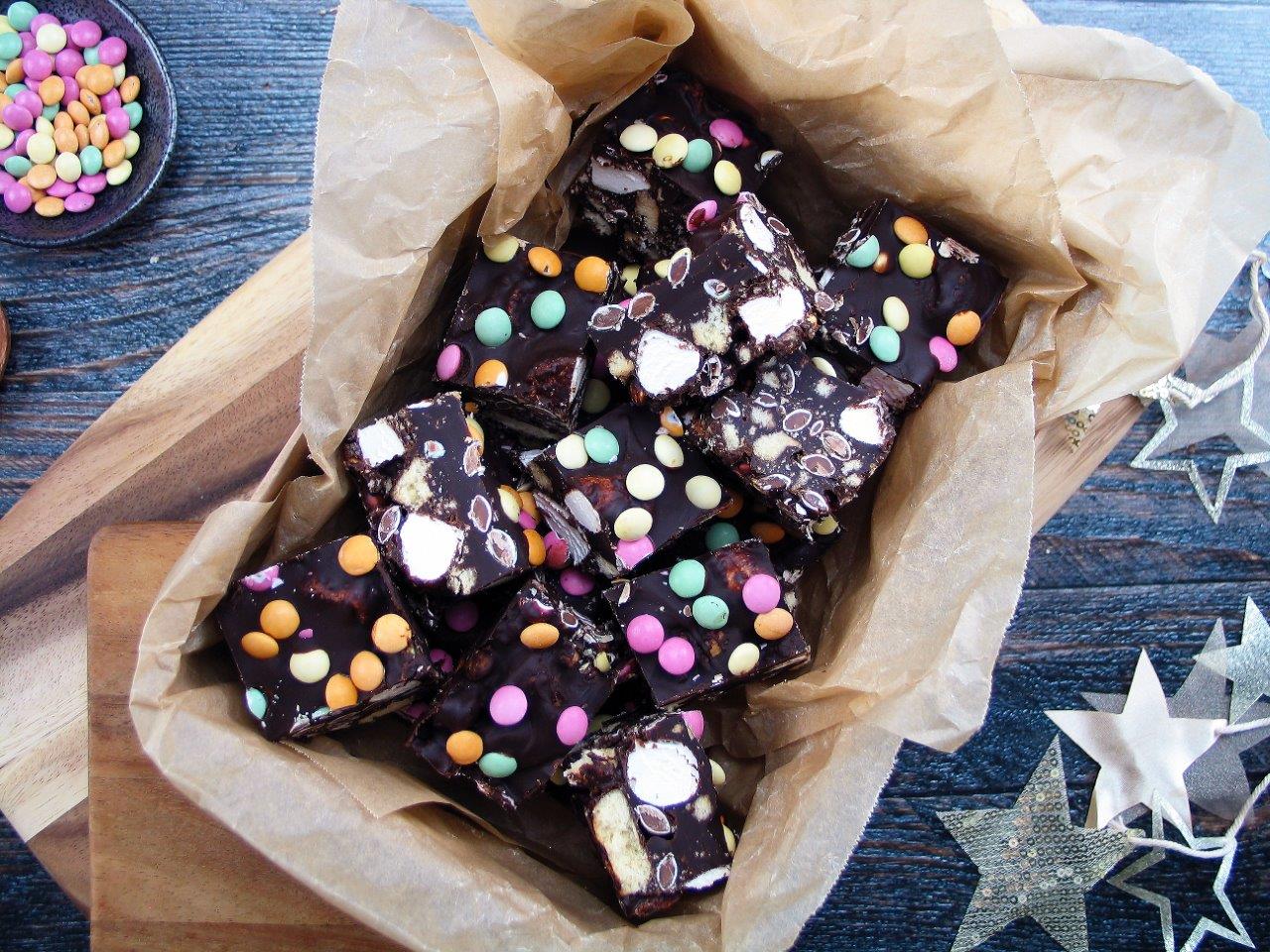 These are super chocolatey and so drool-worthy! No, they're not healthy but life is about balance and these are an indulgent sweet treat to enjoy.
If I need to bring a dessert to a BBQ or get-together this is my go-to slice. It's super easy to make (you can make it in under 15 minutes), it travels well and it's always a hit where-ever we go.
SSShhhh… don't tell anyone how easy these are to make 😉
Makes 16 pieces
Method:
Lighly grease a square 20cm baking tin with olive oil and line with baking paper (have the baking paper overhang the sides to make it easier to remove later).
Place the chopped chocolate, butter and golden syrup in a large pan. Place it on a low heat on the stove top to melt. Stir regulary to mix through and prevent burning.
Reserve a 1/3 of the chocolate mix from the pan and set aside.
Meanwhile, place the shortbread biscuits in a plastic bag and gently bash with a rolling pin (you want a mix of big and small bits and crumbs).
Add the biscuits, marshmallows and smarties to the chocolate mix in the pan and gently mix through until everything is covered in the chocolate mix.
Gently tip the mixture in to your pre-prepared tin and smooth the top. Pour over the reserved chocolate mixture to ensure all areas are evenly covered with chocolate.
Place the rocky road in the fridge for a minimum of 1hr (2-3 is better) or until firm to the touch. When ready to serve, gently tip it out on to a board and cut in to 16 pieces. Enjoy!
Store in the ridge for up to 1 week (they won't last that long!)
To make this slice gluten free, use gluten-free biscuits and a gluten-free chocolate bar.
Indulging in sweet treats is not a bad thing, but should be limited.
Check out this Mind Movement Health Podcast episode for tips on cutting back your sweet tooth: