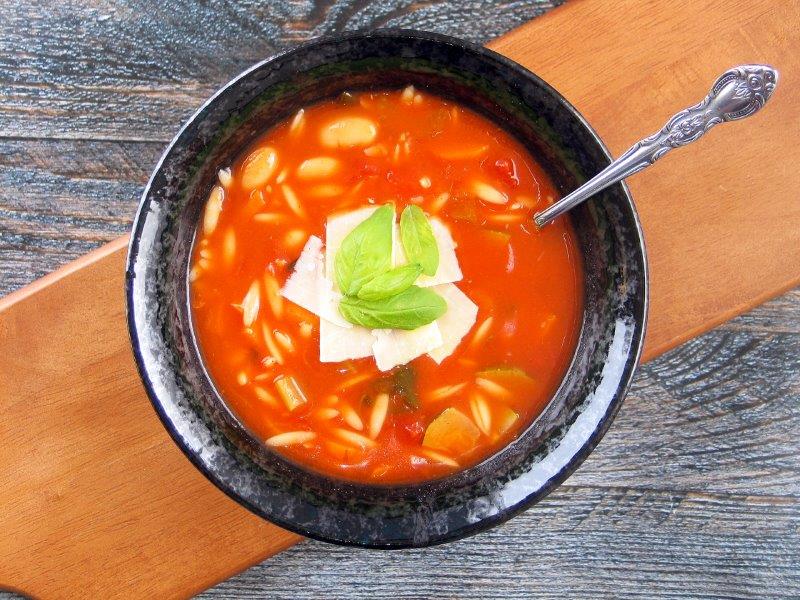 This is such a hearty, vegetable soup that's perfect for Winter.
Full of vegetables, beans and risoni it's nutrient dense, full of fibre and tastes great.
I love this for lunch or dinner on a cold day, to me it just screams HEALTH and I know I'm looking after my gut and my body when I have a bowl full!
Ingredients-
2 Tbsp of Olive Oil
2 Spring onions, chopped
2 sticks of Celery, chopped
2 Carrots, chopped
3 bulbs of garlic, minced
1L of Vegetable stock
2 400g cans of dices tomatoes
1 400g Butter/Cannelinni beans
1/4 C Risoni
1 Zuchinni, chopped
30g or 2 handfuls of spinach/rocket mix
Salt and pepper to season
Shaved parmesan and basil leaves to serve
Method-
Step 1. Heat olive oil in a large saucepan over medium heat.
Add chopped spring onions, celery and carrot and cook for 5 mins (stirring) until slightly softened.
Step 2. Add the garlic and cook, stirring for 1 min.
Add the tinned tomatoes, stock, 2 cups (500ml) of water and season with salt and pepper.
Stir to combine and bring to the simmer.
Step 3. Add the beans, risoni, zucchini and spinach/rocket mix. Stir to combine and cook for 15 mins or until the risoni is tender.
Step 4. Spoon in to bowls and serve with some shaved parmesan cheese and basil leaves.
Season and enjoy!
Eating fibre rich food is beneficial for our gut health. Want to know more ways to optimize your gut health?
Try listening to this Mind Movement Health Podcast episode: