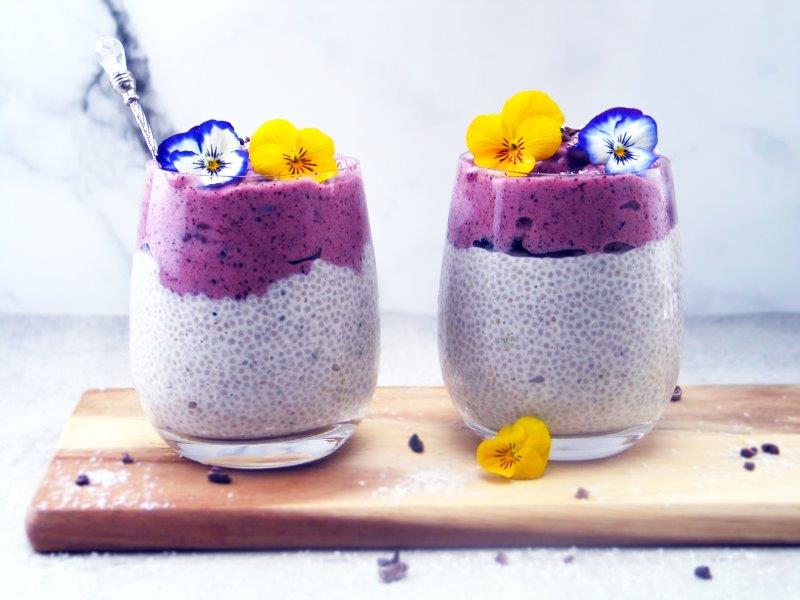 Want a lighter but wholesome breakfast? The combo of Chia Pudding and Nice-cream is so delicious and even better, it's healthy for you!
A couple of minutes prep the night before for the chia pudding and a few mins in the morning to throw the ingredients for the nice-cream in to a mixer and you're set. The fruit provides all the sweetness you need and the chia is a powerhouse of nutrients.
Want a different flavour nice-cream? Substitute the blueberries with your berry of choice.
Serves 2 large or 4 small servings
Ingredients-
Chia Pudding:
1/2 C white chia seeds
2 C milk
3 tbsp Greek Yogurt
1 tsp vanilla
2 tsp Mind Movement Health Nourish Me Superfood Blend
Nice-Cream:
2 frozen bananas
2 handfuls of frozen blueberries
Method-
Step 1. Place the milk, chia seeds, yogurt and vanilla in a bowl. Mix and cover with lid.
Place in the fridge overnight or for a minimum of 6 hrs.
Step 2. When you're ready to serve, mix your Mind Movement Health Superfood blend through the chia pudding.
Add the frozen bananas and frozen blueberries to a blender or thermomix and mix on high.
Serve the Blueberry nice-cream dolloped over your chia pudding.
Top with extra berries, coconut or cacao nibs.
Enjoy!