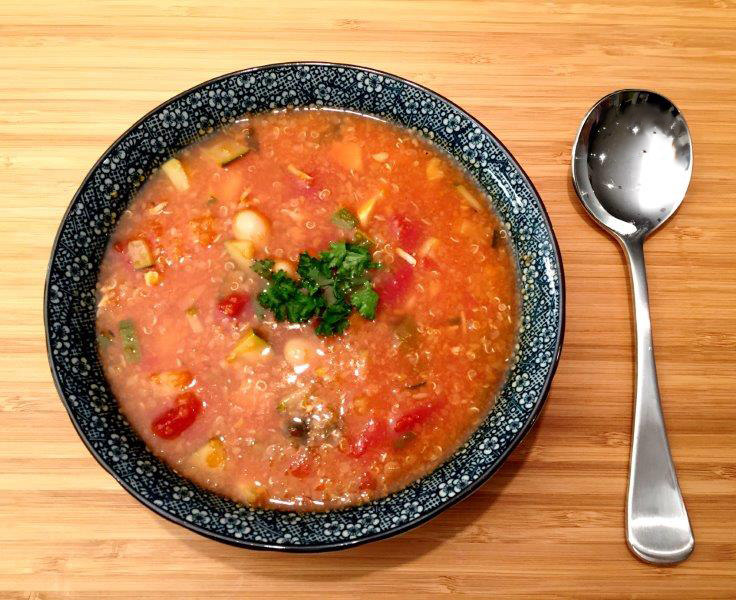 Ingredients-
1 onion or 3 spring onions coarsely chopped
1 carrot coarsely chopped
1 celery coarsely chopped
1 parsnip coarsely chopped
1 turnip coarsely chopped
(Or whatever root veg you have left over in the fridge)
2 cloves of garlic
1 bay leaf
1/3 C quinoa (tri-colour or white)
150g cooked chicken diced
1 zuchinni diced
1 litre of chicken stock (organic preferably)
1 400g tin of diced tomatoes
1 400g Tin of cannellini beans
Method-
Step 1. Process the garlic and root vegetables in a food processor or thermomix and chop on high speed, set aside.
Step 2. Place a pan on medium heat with a few glugs of olive oil. Add the processed root vegetables and bay leaf and cook for 5mins. Add the diced cooked chicken and stir through, cook for 2 mins.
Step 3.  Add the stock and tinned tomatoes and increase heat to bring to the boil. Reduce heat to medium-low and stir in the quinoa. Simmer for 5 mins stirring occasionally then add the zuchinni and further simmer for 5 mins.
Step 4.  Add the cannellini beans and stir through. Simmer on low for a further 2 mins or until quinoa and zuchinni are cooked through.
Season with salt and pepper and serve.
Enjoy!