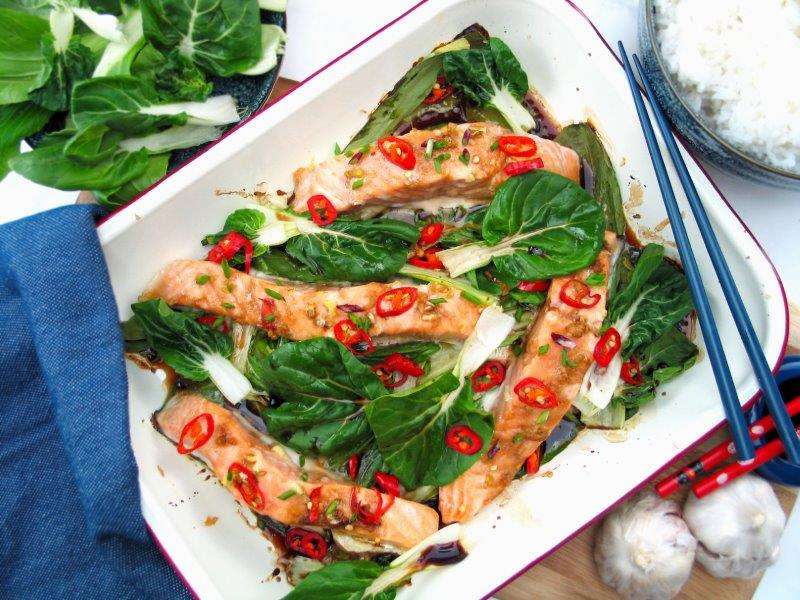 There's nothing better than an easy tray-bake mid week. Easy to make and minimal washing up (winning!) Salmon is delicious and so healthy bursting with omega 3's! I've paired it with some simple asian flavours to make it tasty but easy to prepare. This is perfect for a warm evening or when guests are coming round.
Serves 4
Ingredients-
4 Salmon fillets
1 thumb of ginger, grated
1-2 red chilli, thinly sliced
1 bunch of Bok Choy
1 bunch of dwarf Pak Choy
1/4 C Terriyaki Sauce
1 spring onion, chopped
Olive Oil
Salt and Pepper for seasoning
Rice or Fried rice to serve
Method-
Step 1. Preheat the oven to 180°c. Place the salmon fillets in to a shallow baking tray and rub with some olive oil, salt and pepper.
Wash and separate the bok choy and pak choy and arrange around the salmon fillets.
Step 2. Sprinkle the grated ginger and sliced chilli over the salmon fillets.
Drizzle the 1/4 of Terriyaki suce over the salmon fillets.
Step 3. Bake for 25-30 minutes or until the Salmon is pink and cooked through.
Serve with rice or fried rice, toasted sesame seeds and some extra pak and bok choy.
Enjoy!