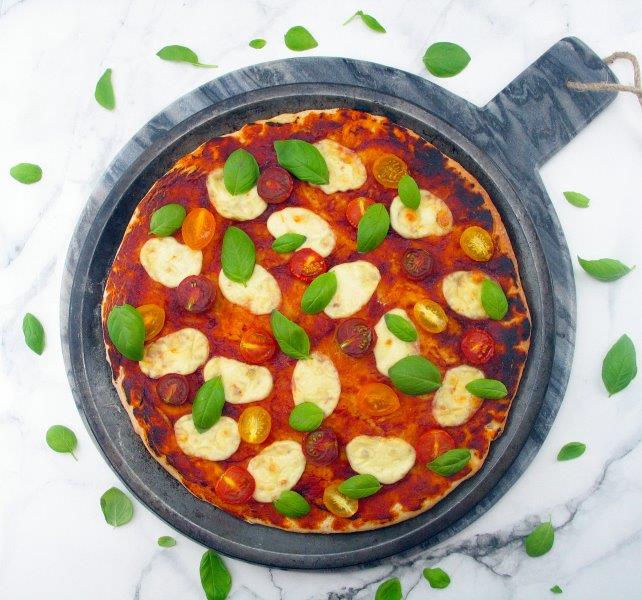 I have been making my own pizza bases for as long as I can remember! It is so easy to do and making one batch of this pizza base recipe gives you 4 large bases so perfect if you are having friends round or stick some in the freezer for another meal.
I call it a fakeaway pizza base as I often like the idea of ordering a pizza for dinner so I don't have to cook but I know the one I make will taste so much better so I always have some pizza base dough in my freezer.
Top you pizzas with anything that takes your fancy! Load it with some veg, you favourite protein and who can go past fresh mozarella! Yum!!
Makes 4 large Pizza Bases
Ingredients-
1kg of unbleached white bread flour
1 liberal pinch of rock salt
14g of dry yeast
a few good glugs of olive oil (around 2-3 tablespoons)
650ml of warm water
Method-
Step 1. Place the flour, salt and yeast in to a large bowl (ensure the yeast is separate from the salt).
Step 2. Add the olive oil and warm water. Mix with a stand alone mixer with a dough hook for approximately 5 mins or alternatively mix with a fork until it starts to come together than transfer to a lightly floured bench and knead by hand for 5-10 mins (dough should be smooth and fairly elastic).
Step 3. Transfer to a large bowl and cover with cling-wrap secured with an elastic band. Place in a warm sunny spot until it has risen and doubled in size. If there is no sun, fill the sink with 2 inches of warm water and place the bowl in the water until the dough has doubled in size.
Note: There is not 'set' time for the dough to rise but do allow a few hours. The sunnier the spot the quicker it will rise but a minimum of 2 hours will give you the best results.
Step 4. Once the dough has risen, separate the dough in to 4 pieces roughly the same size (I cut mine with a knife). Place any extra dough in individual freezer bags and freeze immediately. They will last up to 3 months in the freezer. To thaw, simply remove the dough from the freezer and allow to thaw. Allow approx. 4 hours to defrost.