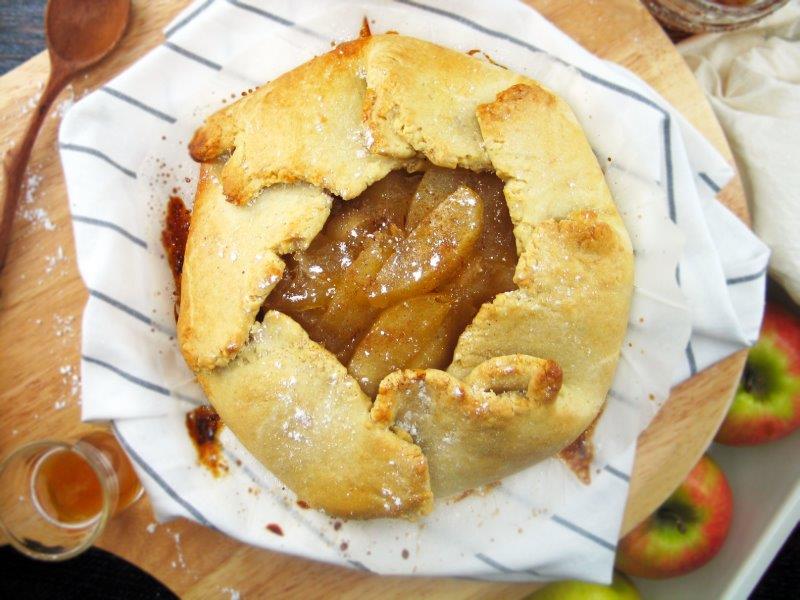 I make this pie for my husband. He often has a craving for a fruit style pie and nothing is better than a classic apple pie.
As I'm always short on time (like everyone else!) this free-form version keeps it rustic allowing you to put the perfectionist in you on hold.
Enjoy this indulgence with some cream or ice-cream. I also change it up and add in some berries every now and again.
Serves 8
Ingredients-
4 Pink lady apples or apples of your choice
1 C caster sugar plus 1 tbsp
1 tsp cinnamon
1 tbsp lemon juice
2.5 C of water
2 C plain flour
125g unsalted butter, chopped
1 tsp vanilla bean paste
1/3 C iced water, approx.
2 Tbsp milk
Method-
Step 1. Preheat oven to 180° or 160° fan.
Peel and core the apples and cut each quarter in to thirds.
Place in a medium saucepan with caster sugar, cinnamon, lemon juice and water.
Step 2. Bring to the boil then reduce heat and simmer for 1o minutes or until apple is tender.
Remove the apple with a slotted spoon and place in a bowl.
Simmer the syrup for 15 mins or until it as reduced to approx. 200ml. Remove from heat and set aside.
Step 3. Process the flour, butter, 1 tbsp extra caster sugar and vanilla bean paste until crumbly.
Slowly add enough iced water until the mix comes together. Knead gently until you can form a ball.
Wrap in plastic wrap and place in the fridge for 30 mins.
Step 4. Roll out the pastry between two large sheets of baking paper until it is approx. a 30 cm disc.
Place it on a large oven tray (keep the baking paper underneath) but remove the top piece of baking paper.
Place apples in to the centre of the pastry leaving a 6 cm border.
Step 5. Fold the pastry over the apples, pleating it as you go.
Brush with milk and sprinkle with a little caster sugar before placing it in the oven for 40mins or until it has browned on top.
Serve with cream or ice-cream and berries.
Enjoy!