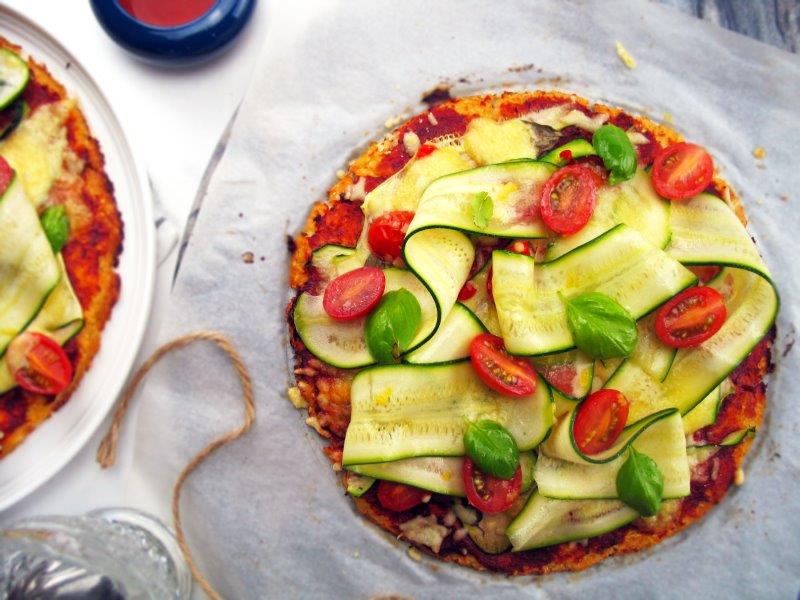 I'll admit, I once was a skeptic on cauliflower pizza. I mean, how can cauliflower taste any good as a pizza! But you know what? I'm happy to admit I was completely WRONG!
This is seriously delicious and I've topped it with fresh zuchinni, cherry tomatoes, lemon and basil to keep it light and fresh.
This is great food when you have friends coming over or if you want an easy weekend meal. It's a keeper!
Serves 2 or 4 if sharing
Ingredients-
1 small cauliflower
1/2 C grated tasty cheese
1 free-range egg, lightly beaten
1/2 C grated parmesan
1/4 C tomato paste
1 large zuchinni sliced in to ribbons
1 punnet of cherries tomatoes, sliced in half
1/2 C fresh basil
1 red chilli, thinly sliced
100g buffalo mozzarella, torn
2 tbsp Basil infused extra-virgin olive oil (plain extra-virgin olive oil is fine too)
1 Tbsp finely grated lemon zest
Method-
Step 1. Preheat oven to 180° fan.
Line 2 oven trays with baking paper and mark a 22cm round on each piece of paper.
Step 2. Process the cauliflower until finely chopped.
Place in a microwave safe steamer and steam for 8-10 mins or until just tender. Don't overcook or your pizza crust will be too soggy.
Alternatively steam on the stove top until just tender.
Drain and when cool enough, place in a clean tea towel. Enclose and squeeze the excess moisture from the cauliflower.
Step 3.Combine the cauliflower, tasty cheese, beaten egg and 1/4 C of the grated parmesan in a large bowl.
Season and mix. Shape the cauliflower mixture in to rounds on the trays prepared, smoothing the surface.
Bake for 25 mins or until golden.
Step 4. Spread the bases with tomato paste, half of the zuchinni, cherry tomatoes,chilli and basil. Top with mozzarella and remaining parmesan.
Bake for 20 mins or until crisp and golden.
Step 5. Combine the remaining zuchinni, tomatoes, basil, chilli, lemon zest and basil infused oil and gently mix with your fingers. Season to taste.
Serve pizzas topped with fresh zuchinni and basil salad.
Enjoy!