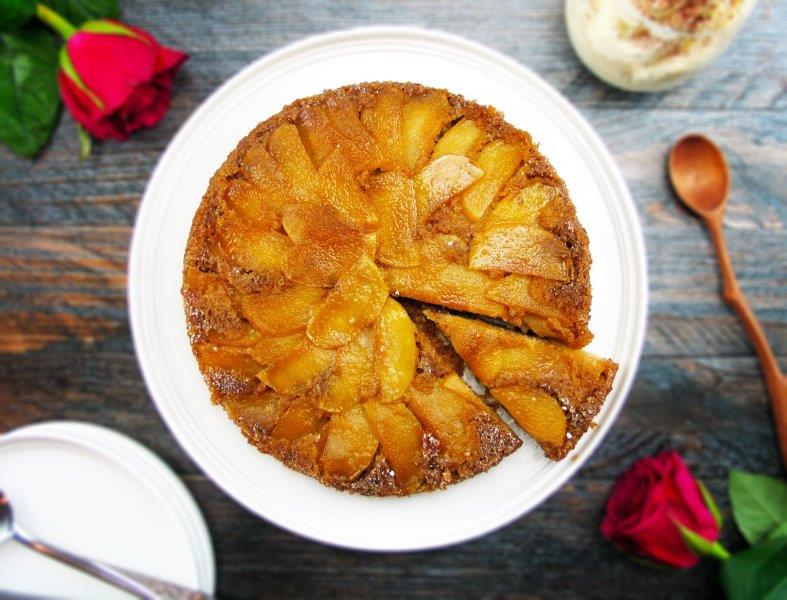 I'm not going to lie, this Apple cake will win even your enemies over! (If you want to share it that is!)
It's so light and delicious that you'll have no idea it's gluten-free.
Got an afternoon tea coming up? Slot this in to your MUST BAKE LIST today!
Ingredients-
80 unsalted butter, softened (divide in half)
1 C of brown sugar (divide in half)
1/2 tsp cinnamon
Pinch of salt
2-3 apples, peeled, cored and sliced
1 C almond meal
1/2 C plain GF flour
1 tsp GF baking powder
1/2 tsp baking Soda
2 free range eggs
1 tsp vanilla extract
1/2 C sour cream
Method-
Step 1. Preheat the oven to 160 degrees fan-forced and grease a round 20cm cake pan.
In a small saucepan over low heat place 40g butter, 1/2 C brown sugar, cinnamon and a pinch of salt. Whisk until blended and spread evenly over base of prepared pan.
Arrange apple slices over caramel mixture in the cake pan.
Step 2. In a small bowl gently mix with a fork, the flour, almond meal, baking powder and bicarbonate soda. Set aside.
In a medium bowl or your electric mixer, beat the remaining 40g of soft butter and 1/2 C brown sugar on medium speed for 2 mins until light and fluffy.
Add eggs one at a time, beating after each addition. Add vanilla. Add flour mixture in 2 additions then add the sour cream and mix slowly until an even batter has formed.
Step 3. Spoon the batter evenly over the apples and smooth the top.
Place in the oven for 30 mins or until cake is golden or when a toothpick is inserted in the centre a few crumbs may come out but no batter.
Cool for 10 mins before inverting on to a plate.
Serve with cream or ice-cream and enjoy!
*Keeps in Fridge for 3 days or freezer for up to 3 months.