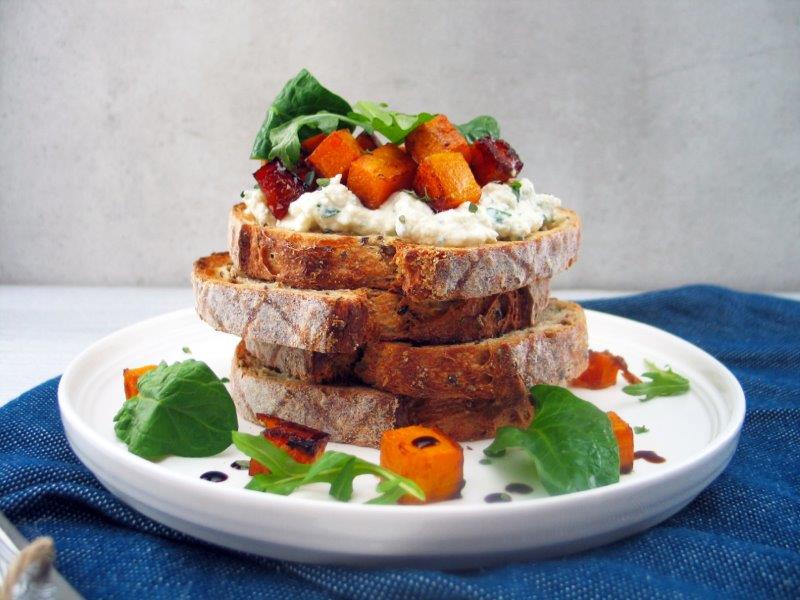 Pumpkin lovers rejoice! This recipe is so ridiculously easy that it doesn't deserve to taste as good as it does! But sometimes simple is just the BEST.
The fresh herbs speak for themselves and the pumpkin with balsamic vinegar is such a classic combo.
If I'm feeling indulgent, I'll also sprinkle some feta cheese over the top to give it that extra kick of flavour.
Serves 2
Ingredients-
Pumpkin
1/3 of a butternut pumpkin peeled and cut in to 1cm cubes
2 tbsp balsamic vinegar
2 tbsp olive oil
4 thick slices of sourdough bread (toasted)
spinach, rocket and extra virgin olive oil to serve
50g crumbled feta (optional)
Herb Ricotta
125g ricotta
1 tbsp finely chopped parsley
1 tbsp finely chopped lemon thyme
good squeeze of lemon juice
salt and pepper to taste
Method-
Step 1. Preheat oven to 220°.
Place chopped pumpkin on a baking tray and rub with olive oil. Drizzle with balsamic vinegar and season to taste.
Roast in the oven for 15 minutes or until caramelised and slightly brown.
Step 2. Place all the ingredients for the herb ricotta in a bowl. Mix and season to taste.
Step 3. Place a few spoonfuls of herb ricotta on the toasted sourdough and serve topped with pumpkin, crumbled feta, spinach, rocket and and extra herbs.
Enjoy!