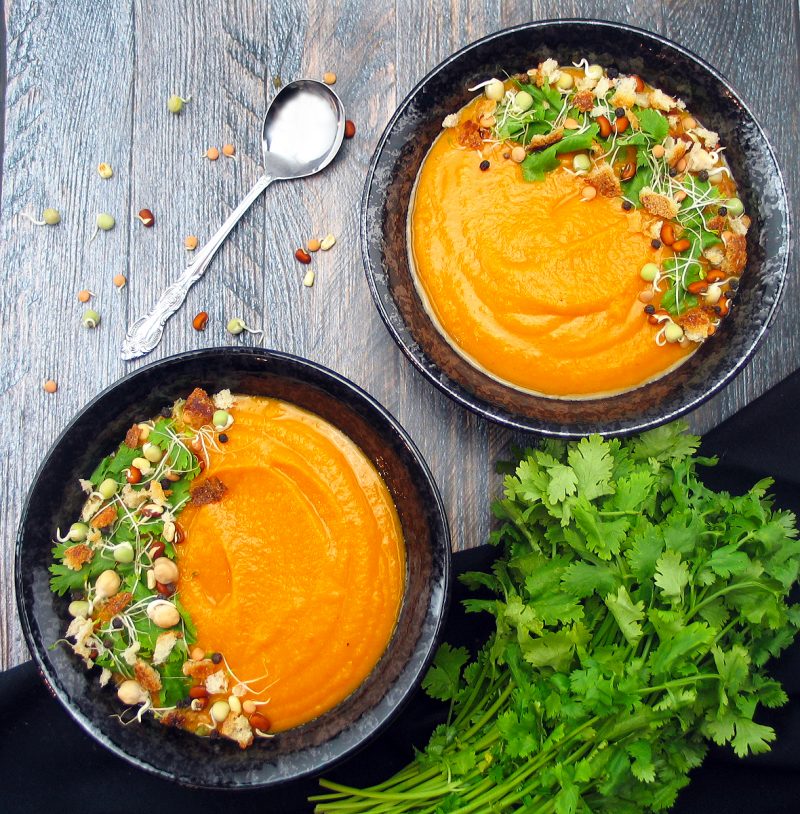 Who doesn't love a delicious, nourishing soup? Easy to make and you can stretch it out for a few meals, there's nothing better!
There's also something almost therapeutic in sitting down to a steaming bowl of hearty soup and this one is no exception. Roasting the pumpkin, sweet potato and carrot gives it such a lovely flavour. Enjoy and savour it whilst it lasts!
Ingredients-
1kg butternut pumpkin chopped in to 3-4cm piece
2 sweet potatoes peeled and chopped in to 2-3cm chunks
3 carrots chopped in to rough 2cm chunks
Couple of good glugs of extra virgin olive oil
pinch of chilli flakes
2 bulbs of garlic wrapped in foil
1 brown onion roughly chopped
2-3 springs of thyme or lemon thyme
salt and pepper
1 X 400g can of Cannellinni beans
6 cups of vegetable or chicken stock
200ml of cream (optional)
Croutons, sprouts and fresh herbs for garnish
Method-
Step 1. Pre-heat the oven to 180° fan-bake.
Step 2. Place the chopped pumpkin, sweet potato, carrot and onion on to 2 baking trays and drizzle with olive oil. Move the veg around a bit to ensure a fairly even coating. Sprinkle with chilli flakes. **Note: If you don't like hot food only sprinkle a little chilli, if you want more heat liberally sprinkle.
Step 3. Place the wrapped garlic on the tray, season all with salt and pepper and roast in the pre-heated oven for 45 mins or until golden and tender.
Remove the veg from the oven and place in to a stockpot. allow the garlic to cool for 5 mins then unwrap and squeeze the cooked garlic flesh in to the stockpot.
Step 4. Add the thyme leaves, cannellinni beans stock to the pot. Cover and simmer for 15 mins. Remove from heat and blend with a stick blender.
Alternatively allow the soup to cool for 15-20mins before placing the soup in a blender (you may need to blend over 2 batches) and blend until smooth. * If the soup is a little thick for your liking add some more stock.
Step 5. Stir through the cream (if using) and serve with extra herbs, croutons and sprouts or just enjoy as is because it's so good!
Tips- Allow the soup to cool a little before blending in a blender as your blender may explode if the liquid is too hot.