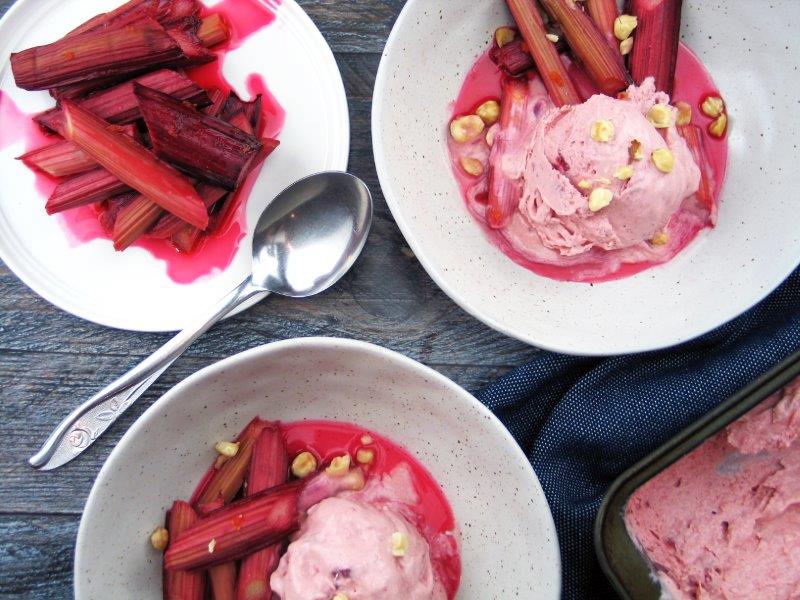 What's better than ice-cream? Rhubarb ice-cream of course!!
Tangy, sweet, delicious and oh so pretty it's the perfect treat on a warm day. Serve as is or with roasted rhubarb for a seriously delicious dessert.
If you don't have an ice-cream machine, please don't disregard this recipe. I use the freezer method all the time and it works a treat.
Ingredients-
Rhubarb Ice-Cream:
250g rhubarb, sliced thinly
Juice of 1 lemon
1 C caster Sugar
6 egg yolks
400ml cream
150ml milk
1 vanilla bean, cut in half and seeds scraped out
Roasted Rhubarb-
300g rhubarb sliced on diagonal in 3-4cm pieces
¼ caster sugar
Rind and juice of 1 lemon
Method-
Rhubarb Ice-cream
Step 1. Place the rhubarb, half the sugar (1/2 C) and lemon juice in a saucepan and stir over medium-high heat until the sugar dissolves and the rhubarb starts to break down (approx. 8-10 mins).
Step 2. Bring cream, milk and vanilla bean with seeds to a simmer in a separate saucepan over medium-high heat.
Whisk the egg yolk and remaining sugar in a heat proof bowl until thick and pale in colour.
Step 3. Add the cream mixture, whisking to combine. Return the mixture to the pan stirring continuously over low heat until the mixture thickens slightly and coats the back of a wooden spoon or spatula.
Step 4. Strain in to a bowl, stir in the rhubarb and refrigerate until cool.
Step 5. Pour in to an ice-cream machine to freeze or alternatively, transfer to the freezer. Once frozen, remove and beat then re-freeze.
Roasted Rhubarb-
Step 1. Pre-heat oven to 180 c. Place all ingredients on a baking tray and place in the oven for 10mins. Stir occasionally during cooking.
Serve with rhubarb ice-cream and crushed nuts if desired.
Enjoy!
*Ice-cream will last 3-5 days (ice-free) in the freezer (if it lasts that long!)