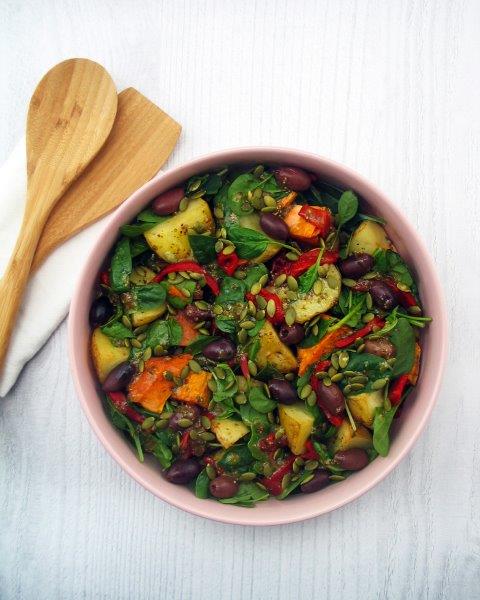 This is one of my favourite salads of all time!
The roasted vegetables help to create a hearty, filling salad that you can enjoy by itself or as a side. I'll often have the leftovers for lunch the next few days and add some chicken for protein or have it just as is.
It's a powerhouse of nutrients, packed with veg and just look at that colour! You have 'eat the rainbow' covered here for sure.
Ingredients-
5 potatoes cut in to 2-3cm pieces
2 medium size sweet potatoes cut in to 2-3cm pieces
2 cloves of garlic (peeled)
80g mixed rocket and spinach
1 marinated chargrilled capsicum sliced
½ C pitted Kalamata olives
¼ C pepitas
Dressing-
2 tbsp olive oil
1 tbsp lemon juice
1 tsp parsley flakes
1 tsp wholegrain mustard
Method-
Step 1. Pre-heat oven to 180°c.
Cut the potatoes, place on a baking tray and drizzle with olive oil. Add the 2 cloves of peeled garlic to the tray also. Sprinkle with salt and pepper and place in the oven for 20 mins.
Step 2. Whilst the potatoes are cooking, cut the sweet potato in to 2-3cm pieces and arrange on a baking tray. Drizzle with olive oil and sprinkle with salt and pepper.
At the end of the 20mins, place the sweet potato in the oven with the potatoes for a further 30-35mins or until cooked and slightly golden.
Step 3. Make up the dressing. Add all the ingredients together in a jar and shake until combined.
Step 4. Add the pepitas to a pan and lightly toast on the stove top for 3-5 mins. Keep the heat low and keep an eye on them as they can burn easily.
Step 5. Once the potatoes and sweet potatoes cooked, transfer the potatoes to a large dish.
Add the spinach and rocket mix, chopped chargrilled capsicum and olives and mix through with the potatoes.
Step 6. Just prior to serving, sprinkle over the toasted pepitas and drizzle over the dressing.
Enjoy!