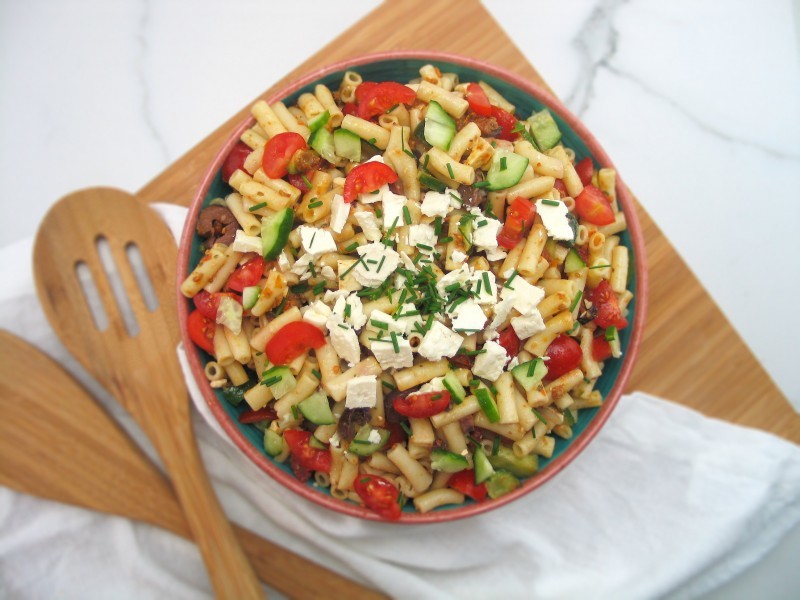 This is great for an on-the-go lunch or quick dinner. Healthy and nutritious it travels well and tastes delicious!
I sometimes add tuna or chicken to it for extra protein if I am having it for lunch or a quick dinner but feel free to add your own twist and change up the veggies.
Serves 6 as a side or 4 as a main meal
Ingredients-
250g pasta (small shells and penne works well for catching the pesto)
 1 Lebanese cucumber finely chopped
1 punnet of cherry tomatoes (heirloom or mixed colours for extra caretenoids) finely chopped
Couple of handfuls of pitted kalamata olives finely chopped
125g feta chopped (25g reserved for garnishing)
3 tablespoons of sundried tomato pesto
2 tablespoons of chopped fresh chives and extra for garnishing
Drizzle of olive oil for serving
Sprinkling of sea salt and cracked pepper for serving
Method-
Step 1. Cook 250g pasta/gluten free pasta via packet directions (approx. 10mins) and allow to cool.
Step 2. Add chopped cucumber, tomatoes, olives, feta  and chives to pasta. Try to chop them all to a similar size if possible.
Step 3. Add 3 tablespoons of sundried tomato pesto and mix through.
Step 4. Garnish with a drizzle of olive oil, a sprinkling of sea salt, cracked pepper, chopped feta and fresh chives.
Enjoy!