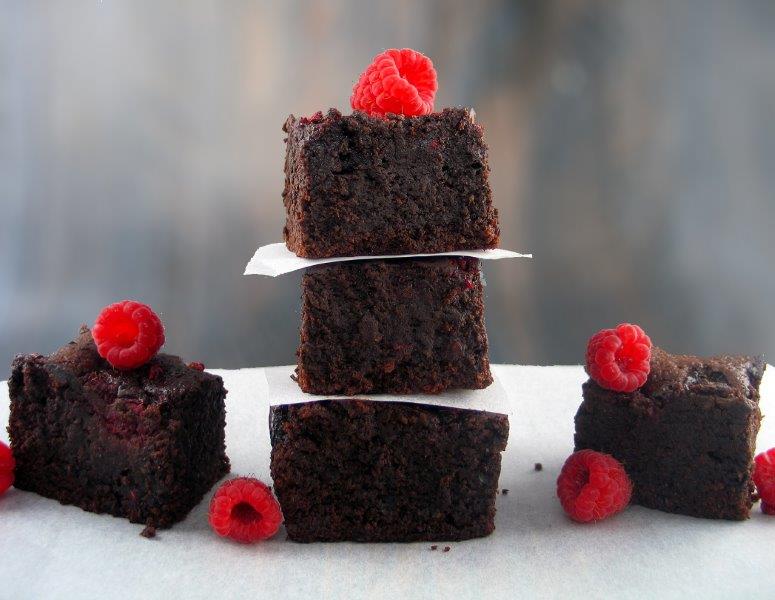 These brownies are dark, fudgey, chocolatey and literally my family's favourite treat besides my chocolate cake!
I have adapted my tried and true brownie recipe to convert it to gluten-free and it is a chocoholic's dream!! They are quite rich so cut in to small squares or serve with some vanilla bean ice-cream to cut the intensity of the chocolate.
The taste amazing any way you eat them and I hope you love them as much as we do!
Makes 16
Ingredients-
200g Dark Chocolate (70% minimum cocoa solids), chopped
250g Butter
1 ½ C brown sugar
4 Eggs (free-range preferably)
1 1/3 C almond meal
½ tsp gluten free baking powder
1/3 C cocoa powder, sifted
1 C of raspberries, fresh or frozen
Method-
Step 1. Preheat oven to 180°c. Grease a 23cm square cake tin and line with baking paper.
Step 2. Place the chocolate and butter in a saucepan over low heat and stir until melted and smooth. Set aside to cool for a few minutes.
Step 3. Place the sugar and eggs in a bowl and mix. Add the almond meal, baking powder and sifted cocoa. Pour in the chocolate mixture and mix to combine.
Step 4. Pour in to the greased and lined cake tin. Top the mixture with raspberries, spreading it evenly over the top.
Step 5. Cook in the oven for 45mins or until set. If the brownies need longer, cover the top with foil to prevent the raspberries from burning. The brownies should be fudgey in the middle.