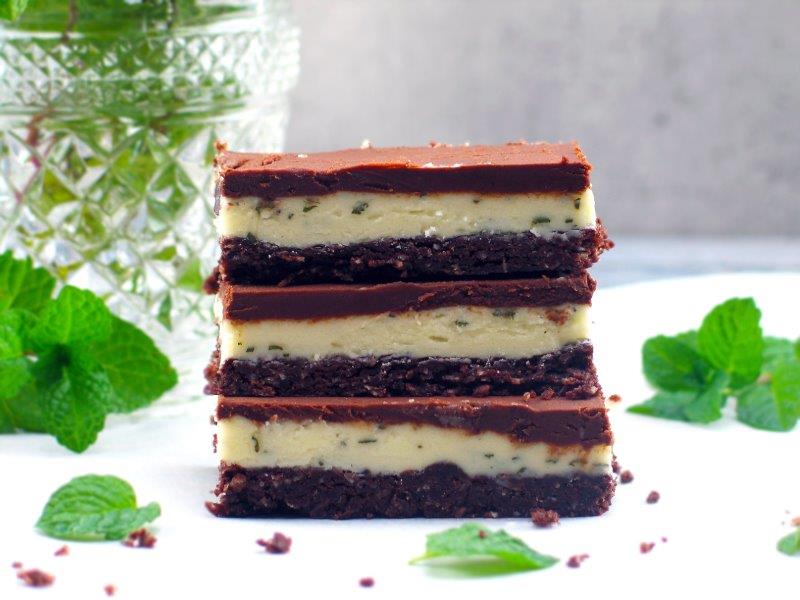 I always have an abundance of mint in my garden and usually use it for mojitos (LOL!) but i thought I'd try a spin on the classic Choc mint slice to make it gluten-free and use up some of my fresh mint.
It turned out sublime!! You won't be getting it from your bakery anymore!
Makes approx. 28 squares or 16 bars
Ingredients-
Choc base
200g butter at room temp
1/2 C caster sugar
1 free range egg
1/2 C almond meal
1/2 C gluten free plain flour
1/3 C cocoa
1/2 C desiccated coconut
Mint cream
3 C icing sugar
50g butter at room temp
1/3 C cream
2 tbsp mint essence
1/3 C chopped fresh mint leaves
Choc topping
100g good quality dark chocolate (min 50% cocoa solids)
1/3 C cream
1/2 C icing sugar
Method-
Step 1. Preheat the oven to 180°c. Grease a rectangular slice tin.
Step 2. To make the base, cream the butter and sugar together. Beat in the egg. Sift in the plain flour and cocoa and add the coconut and almond meal. Mix until combined (it will resemble a sticky cookie dough).
Spread it out in the tin to form an even layer. Use a spatula or if it's a bit sticky you can use clean moistened hands. Bake in the oven for 15 mins, remove and allow to cool.
Step 3. To make the mint cream, beat the icing sugar and butter until pale and creamy (use your mixer or mix by hand). If mixing by hand it may take 4-5 mins.
Add the peppermint essence, cream and the finely chopped fresh mint and beat to combine.
Spread over the cooled base and smooth with a knife. (heat the knife in a cup of hot water to make smoothing easier).
Step 4. To make the chocolate topping, break up the chocolate and place it in a microwave-safe bowl. Heat for 30 sec bursts, stirring in between until the chocolate is melted.
Add the cream and sift in the icing sugar. Mix well. Allow to cool slightly before spreading over the cream layer.
Step 5.Cover with cling wrap and pop it in the fridge for at least 1-2 hours to set.
Remove and slice with a sharp knife.
Enjoy!
*Keeps in an airtight container in the fridge for up to 1 week.

**If your chocolate topping is a little runny add in an extra 1-2 tbsp of icing sugar and mix to thicken.