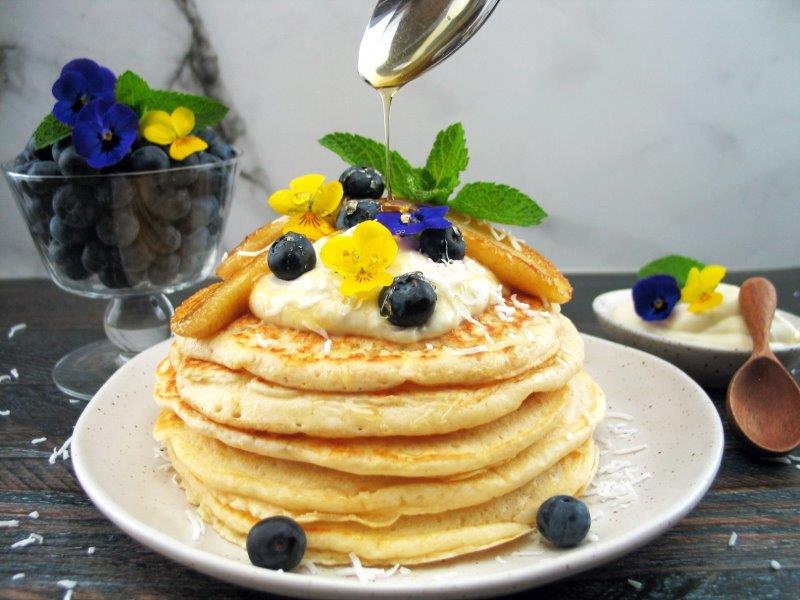 Who doesn't love pancakes? Pancakes are so simple and easy to make and these don't get any easier with only 3 ingredients! Quick to mix together they're the perfect weekend breakfast.
Pancakes can often get a bad wrap for not being healthy but if you top them with some Greek or coconut yogurt, berries and go light or skip the syrup they can be quite nutritious. Especially if you make them with wholemeal flour.
Any way you have them, they're delicious and my family definitely never complains when there's pancakes on the menu!!
Makes 5 Pancakes
Ingredients-
1 C S.R. Flour*
1 egg
1 C Buttermilk**
Method-
Step 1. Place all 3 ingredients in to a medium size bowl and whisk vigorously for 1 min. Allow to stand for 5 mins.
Step 2. Easy a small round frying pan on the stove over medium to high heat. Place a 1/2 tsp butter or a drizzle of oil in to the pan and swirl to coat.
Pour a ladle full of pancake mixture in to the pan. Gentle move the pan until the pancake has spread out evenly across the base of the pan.
Step 3. Once bubbles start to appear on the pancake surface, flip the pancake or turn over the pancake using a spatula.
Allow to cook for 1 min. Remove and set a side.
Repeat steps 2-3 for each pancake.
Serve with yogurt and berries or a toasted banana.
Enjoy!
*Use wholemeal flour for more fibre or GF flour for gluten-free pancakes

** If you don't have butter milk, whole milk or almond milk will work fine, they just won't be as fluffy.