The Complete Post-Natal Workout Series that sees you FINALLY build strength, flexibility and eliminate aches and pain.
Our Post-natal Pilates workouts help you re-connect and build core strength from 6 weeks post-birth to beyond. Move from tired and weak to strong and energised.
Ready to get back to exercise after having baby, but not sure where to start?
Need support to know what exercise is best for you post-birth and post-partum?
Feeling achy, tight and tired but desperately want to get back in to exercise after having bubs?
Then it's time to embrace our complete online video Post-Natal Pilates workout series to feel strong, energised and pain-free.
This workout series guides you through effective and safe Pilates strength and mobility exercises so you can workout anytime, anywhere.
It's the PERFECT way to stay fit, healthy and get back to your best shape post-birth.
If you know you want flexible workouts that help you build strength andflexibility from 6 weeks post-birth to beyond
– Or –
You want a time-saving way to workout in your own home with guided safe and effective exercises specific for post-partum
– Or –
You want specific core strengthening exercises to help you get back to your pre-baby body and in better shape than ever before
Then this complete Pilates Post-Natal Series is the PERFECT Fit For You!
What this Post-Natal Workout Series is… And Isn't
This Workout Series Is:
Easy to access, watch and follow along

Safe, Effective and specific for post-partum

Focused on helping you build strength, stability and mobility
This Workout Series Is Not:
In-person, one on one content

Non-specific, lengthy or boring

Complicated, hard or requiring expensive equipment
I've been teaching Pilates for over 17yrs, now it's time to teach you all I know!
Through these high-value, low overwhelm workouts, you will build strength, stability, eliminate pain and be your healthiest YOU throughout your post-natal recovery and beyond.
With these tried and tested Pilates workouts, you will not just be healthy but strong and energised as you navigate motherhood.
And there's never been a better time then to take charge of your health and fitness, then for you and your family right now.
FROM TIRED AND IN PAIN… TO STRONG AND ENERGISED!
YES, by the time you finish your first workout, you will stand taller, breathe easier and feel the benefits of Pilates.
Your fitness and workout plan for post-partum is all right here in these guided, easy to follow workouts.
Your workouts will feel easy, do-able and enjoyable and you'll feel accomplished, stress-free and stronger.

STAY SAFE
You want to stay fit and active after having your baby but would love some guidance and motivation to workout. You're unsure if you should avoid some exercises or positions when you're exercising and want an effective workout post-partum.
SAVE TIME & INCREASE FREEDOM
You want the flexibility, freedom and time-saving ability to work out from home, when and where you choose without sacrificing the specificity and targeting abilities of your workouts.
IT'S ALSO SOMETHING YOU DEFINITELY DON'T WANT TO MISS IF:
You've been wanting to create a consistent workout routine for a while but haven't found a program or offer that is tailored to post-partum and focuses on your post-baby body needs.

You've wanted to try Pilates but all the Pilates offers and classes you've seen feel overwhelming, difficult and out of reach for your fitness and flexibility levels.

You want to do Pilates but you haven't found a class, time or price point that suits your lifestyle but you know that the addition of these workouts to your fitness will make it easier to build strength and get back to your pre-baby body.
Want to begin your Post-Natal Pilates journey now and start building your BEST strong, flexible and healthiest body yet?
This isn't A Pilates Post-Natal Workout Series, this is THE Pilates Post-Natal Workout Series!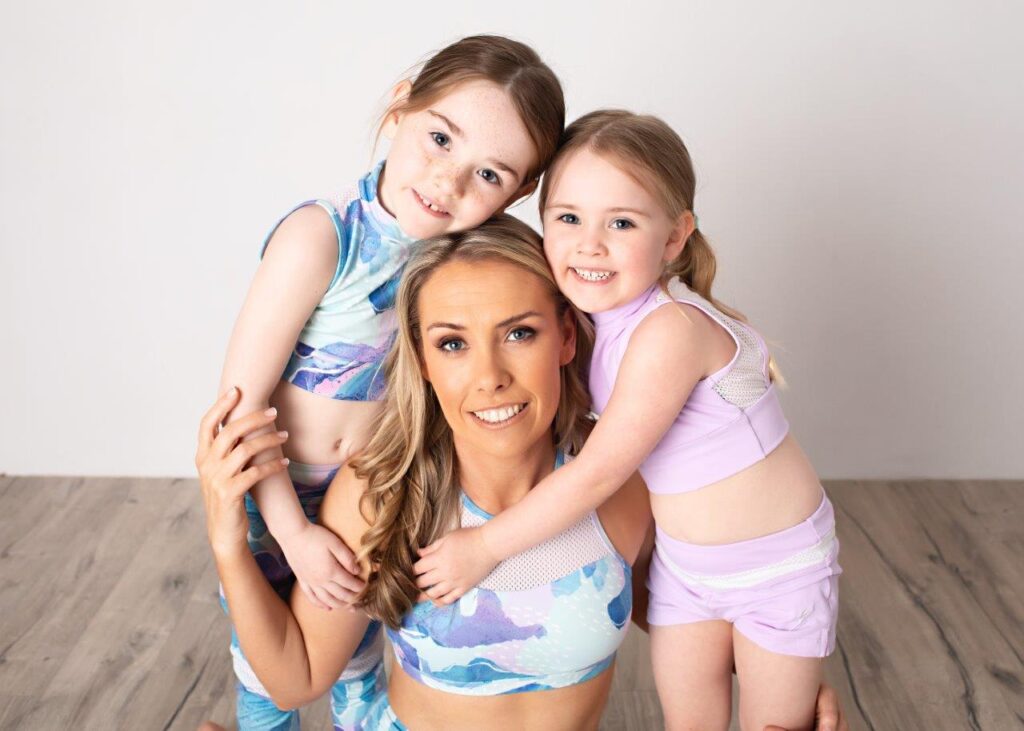 Passionate about holistic health and movement, I LOVE helping women build strength, mobility and eliminate pain through every stage of their life, especially during pregnancy and post-partum.
A diploma qualified Pilates instructor, certified nutritionist and host of the Mind Movement Health Podcast, women's health and movement is my speciality.
Having worked with pregnancy and post-natal clients for more than 17yrs and having 2 baby girls myself, I know the struggles, pain and difficulties that can occur when exercising during pregnancy and post-birth.
I've got deep practical experience in teaching as well as practicing Pilates and love sharing the benefits of this amazing method with women.
In these workouts I will be guiding you through safe and effective exercises for post-partum that will leave you feeling strong, flexible and energised.
If you're serious about prioritising your health and fitness post baby to not only look but feel great, then this workout series is for you.
If you're serious about being in the best shape possible for not only yourself but your family and maybe even subsequent pregnancies, then these workouts are DEFINITELY for you.
Push the button below to get your hands on the series whilst it's only $57 AUD.

6 Specific Online Post-Natal Pilates Workouts

These workouts are designed to build strength, flexibility and eliminate pain as you return to exercise post-baby and you can do then anywhere, anytime!
(Value $200)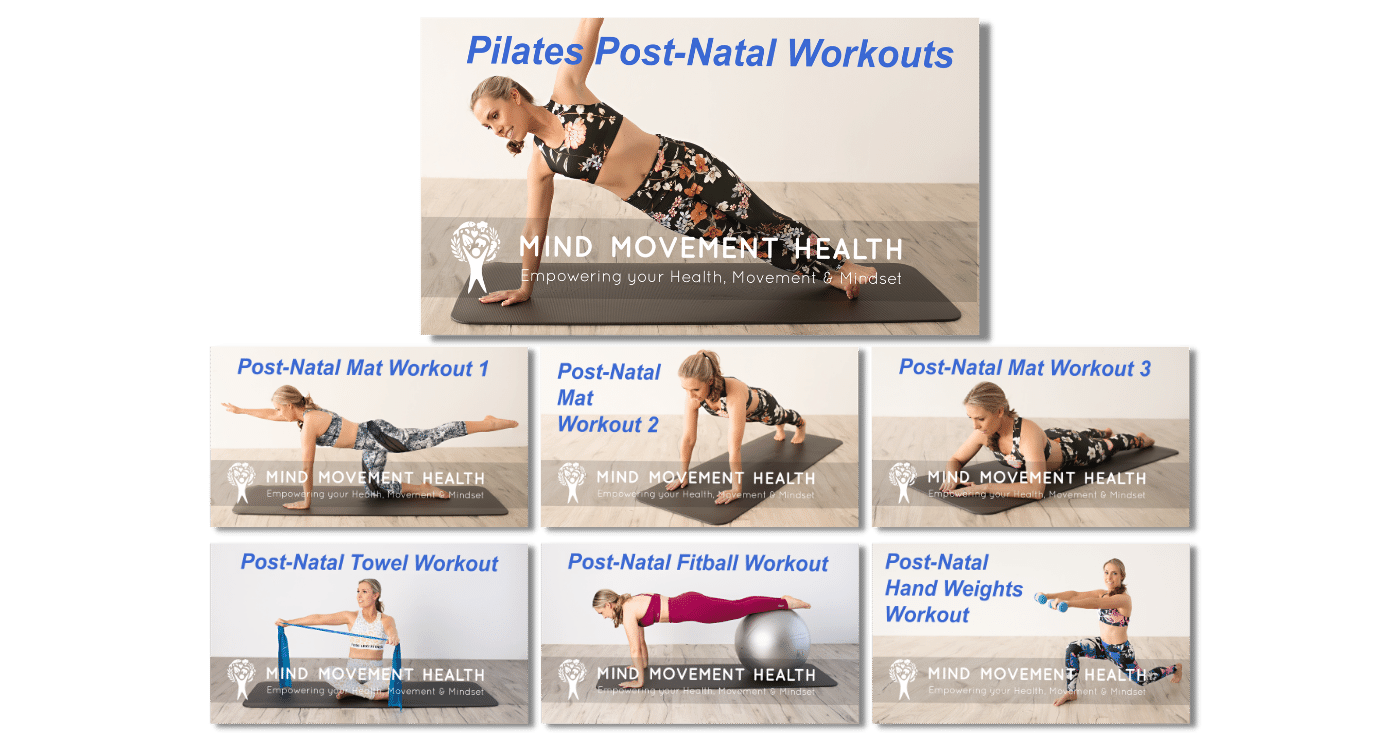 BONUS:
The Ultimate Guide to Post-Natal Health

Feel confident and secure when deciding what exercise and nutrition is best during post-partum. Strength and stretch exercises included as well as frequently asked questions and concerns.
(Value $45)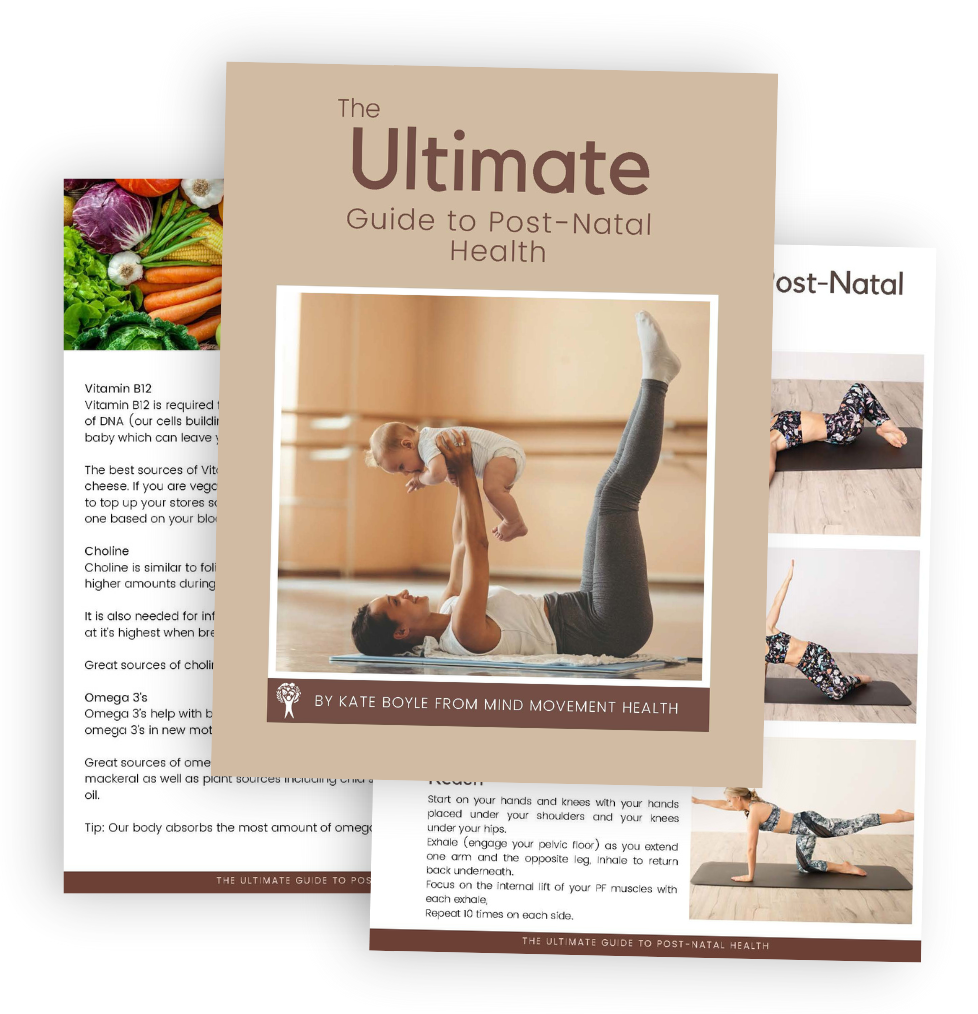 BONUS:
Make-Ahead Meals for Meal Time Madness Recipe E-Book

15 recipes designed by a qualified nutritionist to nourish you and your family. We all know mealtimes get messy when your baby arrives so why not get ahead with these stress-free make ahead recipes.
(Valued at $65)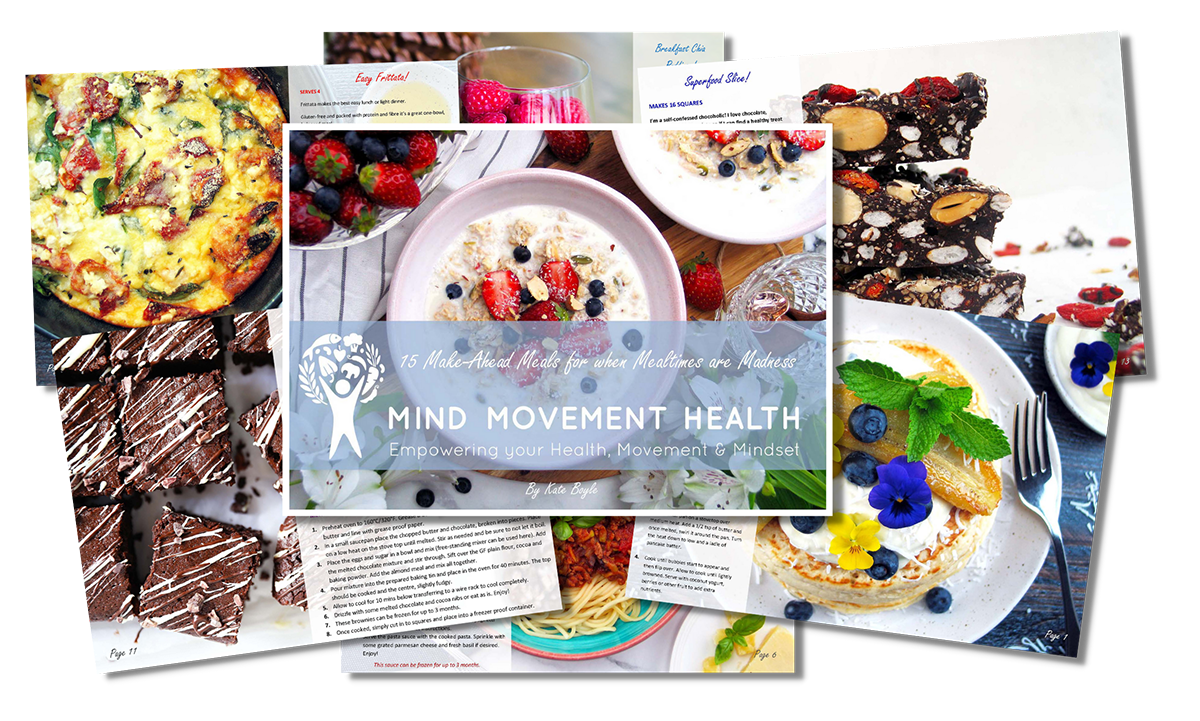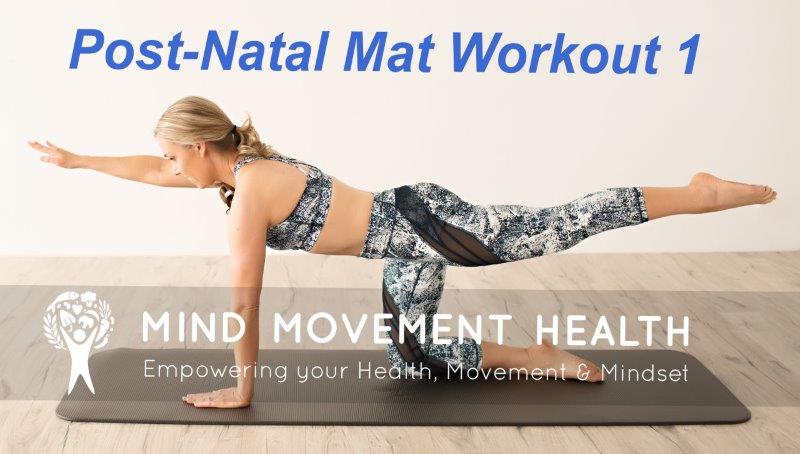 This 30-minute mat workout gently re-introduces you to movement and re-connecting to your pelvic floor and core, post-birth.
You will finish your workout feeling stronger, more connected, flexible, and energised.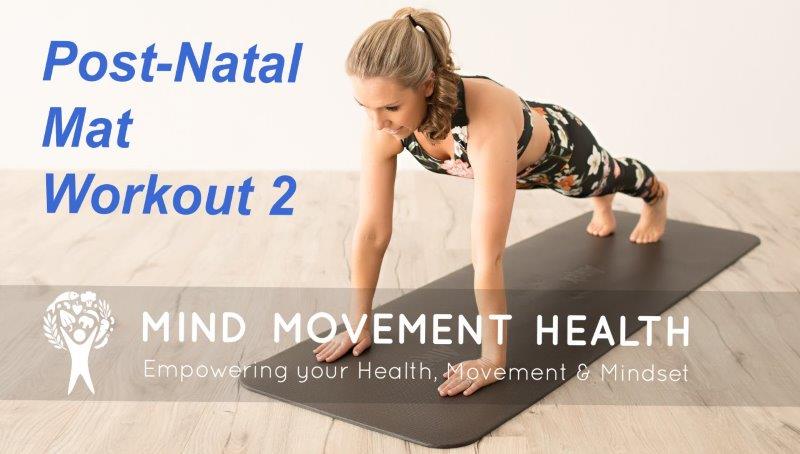 This is a 35-minute workout that re-introduces you to engaging your pelvic floor and deep core post-birth when you are first returning to exercise.
Working the full body with a focus on core engagement it's a great workout that will leave you feeling energised as you start building back up your strength.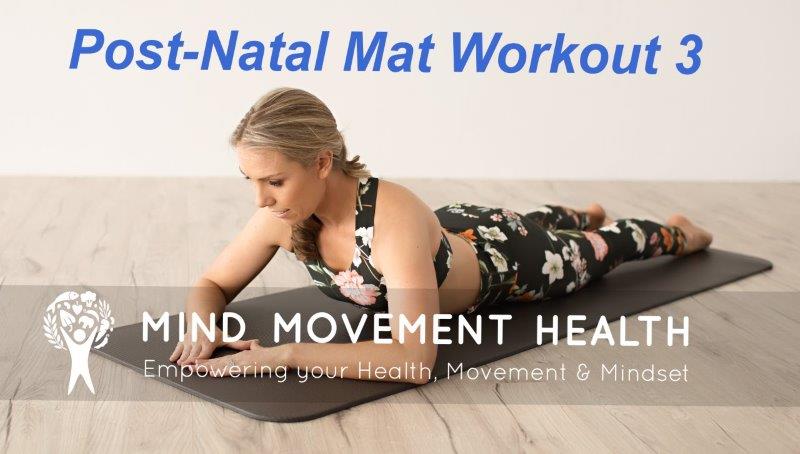 This 30-minute full body workout continues to challenge your strength, stability, and flexibility. Focusing on deep core strength as well as glutes, upper back, and balance, it's a great full body workout that will leave you feeling strong and energised.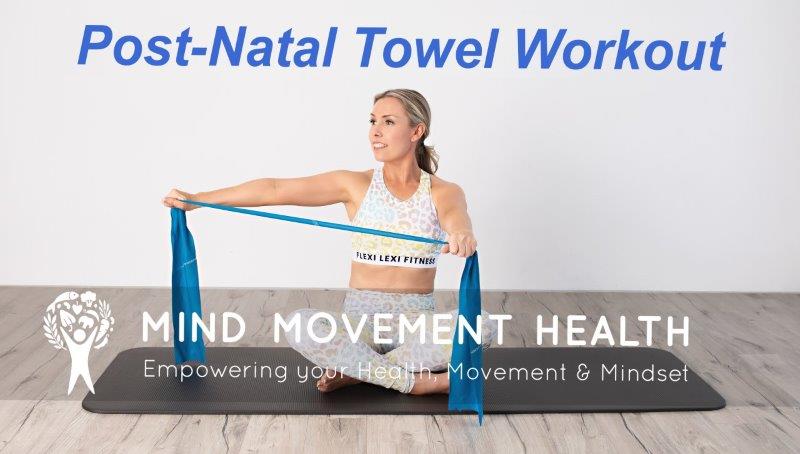 This 30-minute towel workout starts to re-introduce our upper abdominal moves and continues to build on our core strength.
Using the towel allows us to create support for the abdominals whilst building full body strength, stability and mobility.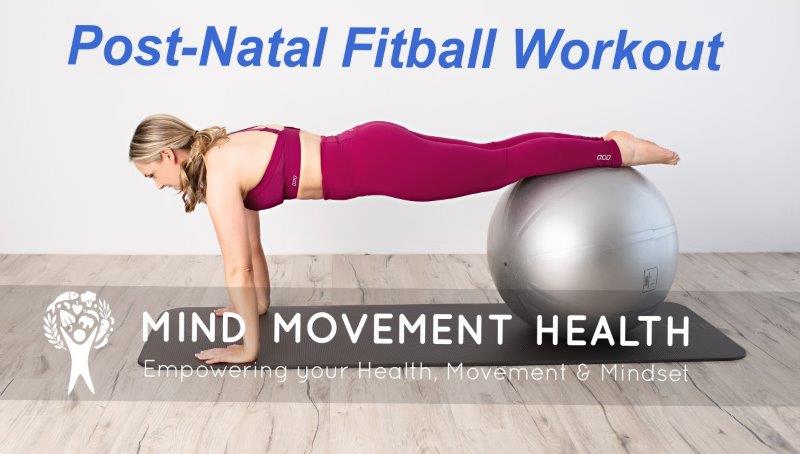 This 30-minute fitball workout is designed to challenge your stability and strength as you continue building your core strength.
It's a fun full body workout challenging the core, arms and legs.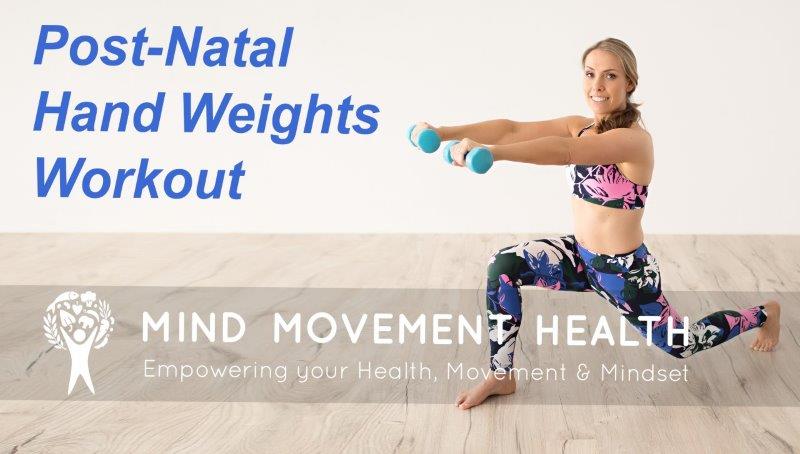 This 35-minute hand weights workout really starts to challenge your full body strength and stability.
From core and upper body work to standing Pilates Barre moves this workout will challenge you as you go from strength to strength in your post-natal journey.
BONUSES
What's more? I want to ensure you have all areas of your health covered for a healthy and energised post-partum recovery.
I don't want for you to only have workouts.
No- I will be setting you up for success so you can start your post-birth recovery, healthy and fit with your nutrition and all areas of exercise taken care of.
Make Ahead Meals for Meal TIme Madness E-book:
Want to thrive and nourish not only you but your family as well?
This Recipe E-Book has 15 of my BEST recipes that are super easy, delicious and adaptable for you and your diet. This is the easiest and most affordable way to work with a nutritionist to ensure you get optimal nutrition during your post-birth recovery. What's more, all the recipes can be made ahead of time so you have healthy meals on hand without the stress.
The Ultimate Guide to Post-Natal Health:
This guides answers all your questions about what exercise and nutrition is best during post-partum. With strength and release exercises, nutrition advice and what to focus on when returning to exercise post-baby, this guide has all your questions answered. Frequently Asked Questions
Do I need equipment for these workouts?
Anthony Burns
2021-11-27T11:33:10+11:00
I've designed these workouts so you can do them with minimal or no equipment. For the hand weights workout you can substitute the hand weights for filled-up water bottles or cans of soup. For the fitball workout, if you don't have a fitball you can use a chair and a few pillows, alternatively you can get a fitball super cheap at your local department store for $10-$15. A fitball is fantastic pre and post-natally to help with pelvic floor awareness and hip mobility and they often come in handy during labour too.