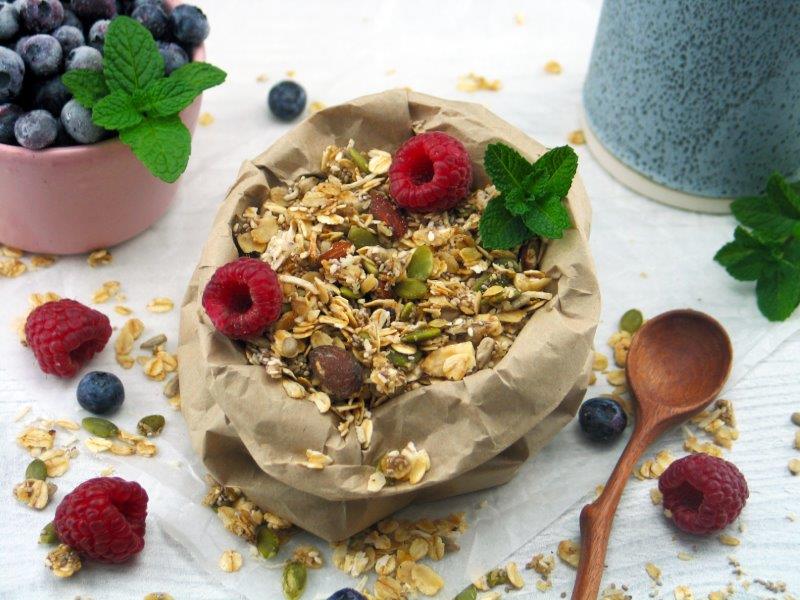 I originally made this as I was fructose intolerant so I couldn't eat all the standard bought muesli's as they were full of fruit.
I love it so much that I eat it most days and it's my go-to when I need something healthy, quick and filling.
I top mine with fresh berries and milk but be creative with your toppings!
Ingredients-
750g oats
1 C pumpkin seeds
1 C shredded coconut
1/2 C chia seeds
1/2 C sunflower seeds
1/4 C sesame seeds
1 C of mixed chopped nuts (almonds, hazelnuts, walnuts etc.)
2 tsp cinnamon
1/3 C coconut oil
1/4 C honey
Method-
Step 1. Preheat the oven to 160°c.
Step 2. Gently heat the coconut oil, honey and cinnamon in a saucepan until melted.
In a large bowl, mix everything except the fruit together and add the melted coconut oil mixture.
Spread the mixture out on 1-2 large baking trays in an even layer.
Step 3. Bake in the oven for 10 mins or until it starts to look golden. Give it a mix half way through the cooking time.
Remove from the oven and leave to cool.
Serve with fruit, yogurt, milk. Whatever takes your fancy!! Be creative!! Change up the mix and add different types of nuts, dried fruit, LSA, coconut or banana chips.
Enjoy!
*To store, keep in an airtight container away from light.