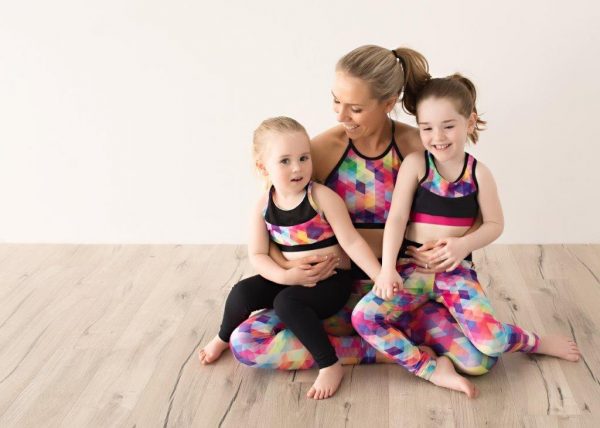 Hey Guys! Here is me at my happiest, in my workout gear and with my 2 girls!
I'm a Nutritionist, Pilates Instructor and total FOODIE! I've always been a firm believer that good food, good movement and good mind practices all contribute to living well and living a balanced life. I'm here to share with you and your family, my favourite recipes, home Pilates-based workouts (as a mum I know how hard it can be to find time to yourself let alone time to workout!) and up-to-date heath and wellness info.
Having suffered IBS and fructose intolerance, as well as food restriction habits in my developing years as a dancer, I experienced a long love-hate relationship with my body and food. My poor body image and my constant struggle with food is what lead me to study Food and Nutrition science at University. I wanted to find out the facts on what good health really is and start to heal my body from the inside out using food for nourishment and in a way, as a type of medicine.
Through my health journey and with my strong interest in movement as a dancer, I completed the APMA Pilates Instructor course after university and expanded my passion for health by helping my clients heal their bodies with good movement whilst working as a Nutritionist. This ultimately led to my own studio, Mind and Movement Pilates.
Pilates is such a unique style of movement that is brings together the use of breath, precision, concentration, co-ordination and flowing movement through each exercise. I have worked with clients who were experiencing such stress from grief or family pressures, heal through the Pilates method. In being able to spend time on connecting with your body and your breath you're able to reduce pain and stiffness and increase your energy, lightness and ability to move which helps to improve your quality of life.
After years of learning and working on my own body both inside and out, I'm pleased to say I no longer suffer from IBS or fructose intolerance and I love and respect my body for the amazing vessel it is. Because the human body is TRULY AMAZING and we only get one so love it, look after it, nourish it and be your own best-friend.
So here is Mind Movement Health, a portal I hope you can use and find benefit from. From healthy family-friendly recipes, to Pilates workouts and helpful Health-related blog posts. I thank-you from the bottom of my heart for sharing your health journey with me and allowing me to help you with yours.
Yours always in Good Health,
Kate Boyle xx