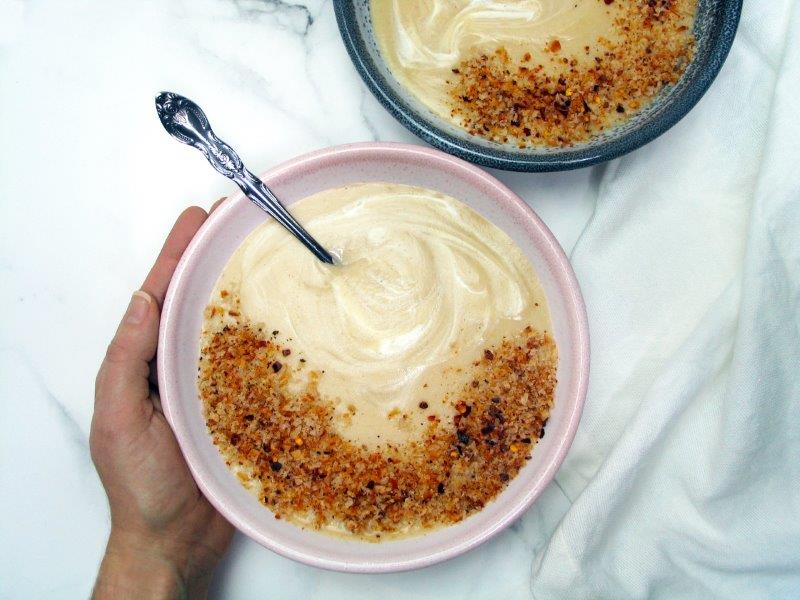 This is real comfort food!
Warming, easy to make and so good on a cold Winter's night.
The cauliflower is the star here and the spices bring out it's flavour nicely. Pair it with some crusty bread and you have the perfect easy meal.
Serves 4
Ingredients-
1 whole cauliflower
1 onion, cut in to chunks
4 garlic cloves
3 potatoes, roughly chopped
Olive oil for drizzling
Salt and pepper
2 tsp ground cumin
1 tsp paprika
2 tbsp chopped thyme or lemon thyme
1 L vegetable or chicken stock
1-2 C of extra water if needed
Optional-cream and toasted breadcrumbs to serve.
Step 1. Preheat the oven to 200°c.
Cut the cauliflower in to medium size chunks and place on 2 baking trays along with the roughly chopped onion and garlic cloves.
Drizzle generously with olive oil and massage in to the vegetables. Sprinkle with salt and pepper and place in the oven for 40 mins or until lightly golden.
Step 2.  Squeeze the garlic from it's skin and place it in a large saucepan along with the roasted cauliflower and onion.
Add the chopped potatoes, thyme, cumin, paprika and chicken stock. If the vegetables aren't covered, add some extra water (1-2 cups).
Step 3.
Bring to the boil, then reduce to a simmer for 30 mins or until the potatoes are soft and cooked through.
Blitz with a hand held mixer or allow it to cool before placing in to a blender.*
Add a little cream if you'd like a creamier soup and serve with some toasted breadcrumbs or croutons.
Enjoy!
*Avoid placing hot liquid in to a glass blender as it can shatter the glass if too hot.
Soup is a great option for those who experience gut/food intolerance issues.
Check out this Mind Movement Health Podcast episode for other ways to improve your digestion:
MMH #7- Better digestion: 5 Easy ways to help beat the bloat