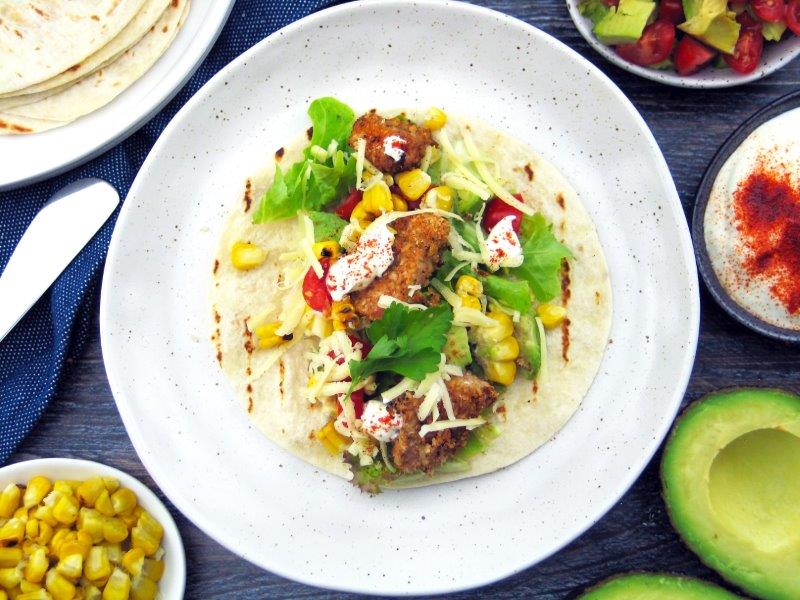 Chicken Wraps are quick, healthy and delicious so what more could you ask for?? Serve with plenty of veg and salad and they'll be on the table in less than 20 minutes!
Serves 5
Ingredients-
1 tbsp Olive oil
500g Chicken breast fillets
10-12 wraps (home-made or bought)
Charred corn, diced tomato, avocado, lettuce, grated cheese and sour cream for serving
Chicken Crumb Mix-
1 C sourdough breadcrumbs
2 tsp cumin
1 tsp smoked paprika
1 tsp garlic powder
1 tsp parsley flakes
Method-
Step 1. Mix together all the ingredients in the chicken crumb mix and set aside.
Cut the chicken breast up in to 2-3cm pieces and place in a clean container with a lid or medium size kitchen bag.
Step 2. Add the chicken crumb mix to the chicken and gently shake until all the chicken is coated with the crumb mix.
Step 3. Place a large pan on the stove top over medium heat. Add the tbsp of olive oil. Once heated, add the crumbed chicken to the pan and spread out evenly.
Step 4. Cook the chicken for approx. 10-15 mins, turning the chicken as each side browns.
Step 5. Serve with salad, grated cheese, sour cream and wraps.
Enjoy!