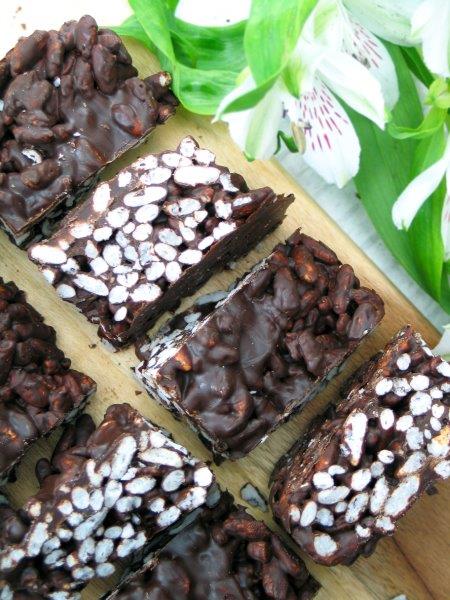 Do you remember chocolate crackles from your childhood? I do. It wasn't a party in my mind if there wasn't chocolate crackles!
Now I make them for my girls and they love them! Only 3 ingredients or 4 if you want to add coconut and be fancy, they're quick easy and free from any nasties.
Perfect for the kinder or school lunch box as they're nut free too!
Serves 12-16
Ingredients-
200g Dark chocolate (min.70%)
1 teaspoon of coconut oil
3 cups of wholemeal puffed rice
1/2 C dessicated coconut (optional)
Method-
Step 1. Lightly grease and line a 23cm square baking pan with baking paper.
Place the chocolate and coconut oil and in a microwave-safe bowl and cook on 30 sec bursts, stirring in between until melted. (Takes approx. 2-3 minutes).
Reserve 1/4 C of melted chocolate for later.
Step 2. Add the puffed rice and coconut (if using) to the melted chocolate and mix together.
Place the mixture in to the lined baking tray. Pour of the reserved 1/4 C melted chocolate and smooth with a spatula.
Step 3. Place in the fridge for a minimum of 2hrs to set.
Serve and Enjoy!