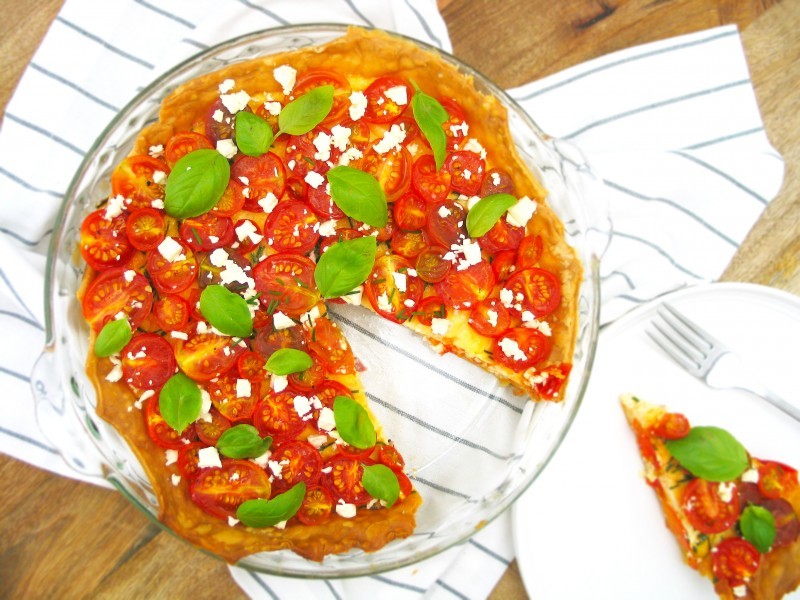 This quiche is delicious and lovely to make in Summer when tomatoes are at their best! Failing that, it's just a delicious meal to make all year round!
Ingredients-
250g tomatoes chopped in half (various sizes or colours)
125ml cream
125ml milk
4 eggs, lightly whisked
2 tbsp chopped chives
125g feta chopped (reserve 25g for garnishing)
75g ham chopped (optional)
1 sheet of ready-rolled shortcrust pastry, just thawed
Basil leaves for garnishing
Method-
Step 1. Preheat oven to 200°c. Place chopped tomatoes on lined baking tray. Drizzle with olive oil and sprinkle with salt and pepper. Bake for 15 mins. Remove and set aside.
Step 2. Grease a round fluted tin with olive oil and place the short crust pastry in the base. Rest for 10 mins before lining with baking paper. Add pastry weights and cook for 12 mins at 180°c. Remove pastry weights and cook for a further 10 mins or until lightly golden.
Step 3. Whisk together the cream, milk, eggs and chopped chives. Add the ham (optional).
Step 4. Sprinkle the chopped feta in the pastry case and pour in the cream/egg mixture. Bake in the oven at 180°c for 35-40 mins or until just firm when tested with a skewer.
Step 5. Top the quiche with the roasted tomatoes and bake for a further 5 mins if quiche is not quite set.
Step 6. Garnish with extra feta and basil. Serve and enjoy!