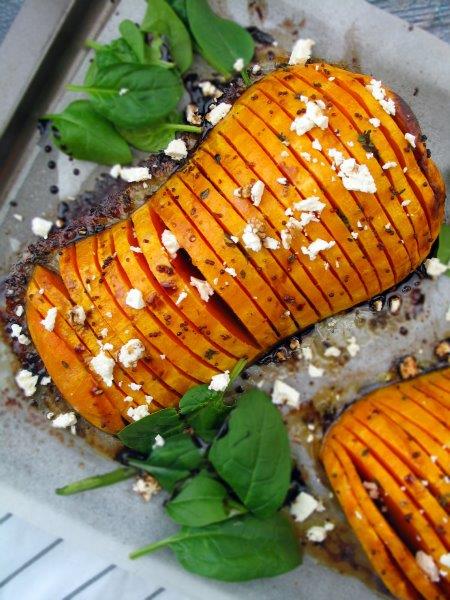 This is such an easy recipe and such a showstopper when you're having people over.
The roasted pumpkin tastes so good with the herbs and feta mix and basting it during cooking helps to develop the flavours.
When I first baked this my husband came wandering in to the kitchen to find out what was in the oven. It's been a hit ever since!!
Serves 6 as a side or 4 as a main meal
Ingredients-
1 butternut pumpkin, cut in half and de-seeded
5-6 sprigs of thyme or lemon thyme with leaves removed
40g butter
1 tsp wholegrain mustard
Salt and pepper
Drizzle of balsamic vinegar
Spinach to serve
Method-
Step 1. Preheat oven to 200°c. Line a large baking tray with baking paper.
Step 2. Use a vegetable peeler to peel each half of the pumpkin. Place a chopstick or blunt knife along the side of the pumpkin. Use a sharp knife to thinly slice the pumpkin down to the level of the chopstick/knife (this makes sure you don't cut all the way through). Place the pumpkin on the lined tray.
Step 3. Scatter the thyme leaves over and in the cuts of the pumpkin.
Combine the melted butter with the wholegrain mustard and salt and pepper in a small bowl. Mix together then brush over the pumpkin.
Step 4. Bake in the oven for 50 mins, basting occasionally with any leftover butter mixture.
Transfer to a dish, sprinkle with crumbled feta and drizzle over balsamic vinegar to your taste.
Serve with spinach and enjoy!
Did you know that what you eat plays a big role in your mental health?
Try checking this Mind Movement Health Podcast episode to learn more: