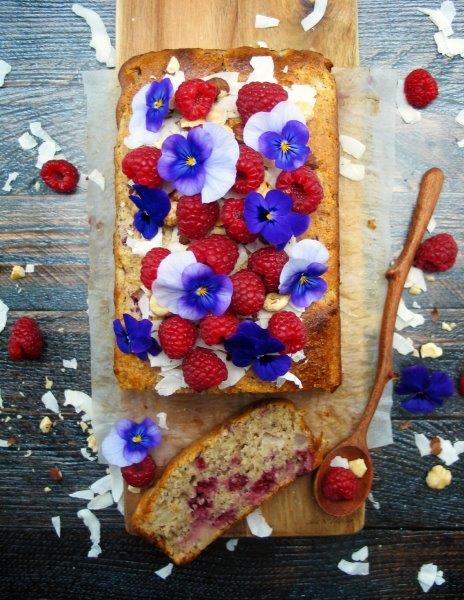 This Raspberry and Pear loaf is gluten-free, dairy free and refined sugar free. It still contains sugar in the form of rice malt syrup but it is a reduced amount and therefore takes more of its sweetness from the scrumptious raspberries and pear!
This is perfect for a lighter afternoon treat and tastes oh so good!
Ingredients-
1 C GF S.R. Flour
1 C hazelnut meal
1 C desiccated coconut
250ml coconut milk
2 pears peeled and quartered, chopped in to 2cm pieces
1/2 C rice malt syrup
2 eggs, beaten
1/2 tsp vanilla bean paste
1 C frozen raspberries
Method-
Step 1. Grease and line a rectangular loaf tin with baking paper. Turn oven on to 180°c.
Place the flour, hazelnut meal and desiccated coconut in a bowl and set aside.
Step 2. In another bowl, place the coconut milk, beaten eggs and vanilla. Mix until combined.
Add the coconut milk mixture to the dry ingredients along with the rice malt syrup. Gently mix.
Step 3. Fold through the chopped pear and raspberries. Pour in to the loaf tin.
Bake in the oven for 1 hour or until it springs back lightly to the touch.
Step 4. Leave to cool for 15 mins before removing from the pan and transferring to a wire rack.
Serve as is or with flaked coconut and extra hazelnuts.
Enjoy!
Did you know that what you eat plays a big role in your mental health?
Try checking this Mind Movement Health Podcast episode to learn more: