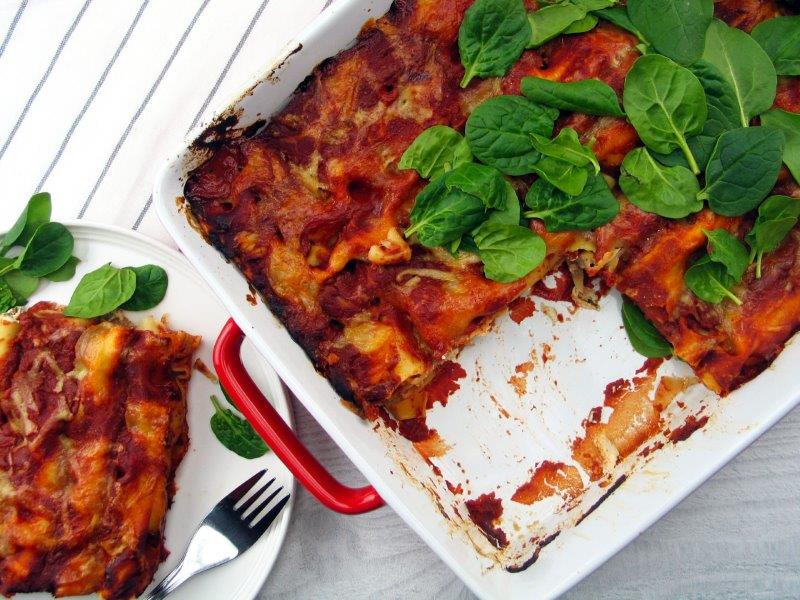 Need a delicious meal? This is it! It's also a bonus that it's vegetarian too.
The ricotta makes it light and pairs perfectly with the tomato and spinach.
Serve with a hefty side salad and I assure you it will go down a treat!
Serves 6
Ingredients-
2.5 C of chopped Spinach
Handful of chopped basil or to taste
700g smooth Ricotta
150g Parmesan cheese, grated (25g reserved for topping)
1 egg, beaten
Salt and pepper to taste
700g Tomato Passata
375g fresh pasta sheets
50g mozzarella, grated for topping (alternatively use fresh mozzarella)
Method-
Step 1. Preheat oven to 180°c.
To make the cannelloni filling, finely chop the spinach and basil. Combine with the ricotta, 125g of grated parmesan an egg in a large bowl.
Season with salt and pepper and mix until combined.
Step 2. Pour 1/3 of the Passata in to the base of your  25c X 30cm oven-proof dish.
Lay a fresh lasagne sheet on to a board. Depending on how big you would like your cannelloni, cut the lasagne sheet in half or thirds.
Along one side of the pasta sheet, add 2 tbs of the filling mixture.
Roll the mixture in to the centre of the sheet and place seam side down in to the dish. Repeat with the remaining mixture. Make sure you pack your cannelloni rolls in tightly to ensure they hold together during cooking.
Step 3. Pour the remaining tomato passata evenly over the cannelloni and top with grated mozzarella and reserved parmesan cheese.
Bake in the oven for 45 mins. Check after 30 mins and if browning too much place foil over the top for the last 5-10 mins of cooking time.
Serve with a side salad and enjoy!