If anyone can tell me how I can save more time in my week, then my ears always prick up.
As a mum, business owner and health advocate I'm always looking for ways to help simplify my life but still produce the amazing results I want to see for my health, family and business.
That's why this week I wanted to share 3 of my easy health hacks/habits that serve me and my family well and that I know will benefit you guys as well. And maybe you've heard these before and maybe you're even doing some but If you can pick up on just one tip that can help save you time and stress then for me that's always a winner.
1. My first health hack that helps not only myself but my family, is meal prep.
Now, meal prep is one of those things that can go underestimated but it can save you so much time, money and stress that if you're not doing some sort of meal prep to help you during the week then I'm here to share how it can change your life.
Meal prep in my house looks different on different weeks. Sometimes and most often it's making a soup or slice like a zucchini or frittata on the weekend that I know is in the fridge for my lunches during the week.
This means that I don't have to think about my weekday lunches, I know I have a really healthy meal ready, so I'm not tempted to eat something easy and less nutritious or grab something whilst I'm out and about and I'm also able to use up some leftovers so I'm not wasting any food.
Sometimes my meal prep is making a double batch of lasagne so I make 2 lasagnes at one time. I serve one and put the other in the freezer so it's ready for a quick mid-week meal when I'm working late, or we have to run the kids around for activities.
There's also a few curries and pesto pastas I make that the girls aren't super fond of, so when I make them, rather than making half a batch, I still make a full batch and freeze the other half so again if some or one of us is out for dinner or needs even a weekend lunch we have it ready to go.
So, with meal prepping I always say- utilise your freezer, whether that be freezing leftovers, an extra meal or a batch of cookies so you always have fresh ones on hand. Definitely use your freezer.
Make a full or double batch of food. This will always save you extra time and money in the long run.
Don't think you have to follow a recipe to the T either.
Use up what you have in the fridge. Think of meals like frittatas, stir-fries, curries and pastas where it doesn't matter if you don't have the exact veg as the recipe, improvise where needed (and sometimes it actually tastes better).
Are you ready to give meal prep a go?
If yes, then do it your way. Make a week's worth of food, a batch of soup for lunches or use up leftovers. Whatever way you do it, try it and you'll definitely see the time saving benefits.
2. Exercise at home
Now I have to confess, before I had kids, I had a gym membership. Many years ago, before I knew the benefits of Pilates and all its amazingness, I used to go to the gym regularly. I didn't really love using the machines (I got bored easily) and I didn't really love the classes, but I thought it was good for me, so I went.
Then, I had kids, and everything changed. I had SO much less time and energy and because I didn't really love it, I wasn't motivated to go. That's when I started working out from home more and really utilising my Pilates studio.
I'm an avid walker and I also like to run a couple of times a week, but this is where you can get your nature time and simply walk outside to get your exercise. Gone is the traffic, commute and boring gym workouts that just don't do anything for you.
I also had a new love of shorter workouts (because I didn't have the time to do longer between teaching and babies) and found I was able to roll out my Pilates mat and do a quick workout, stretch or some mobilisation work and feel better in minutes. This also helped me reduce my stress levels as I didn't need to get someone to babysit my girls in order to do a workout and gave me the flexibility to work out at a time of the day that suited me.
Now that my girls are a little older (5 and 7) I love doing early morning workouts sometime between 6am and 7.30am before they get up or we need to rush off to school. I change it up with my walks and runs and also between using my Pilates equipment and mat based workouts to really work my body in different ways.
I love working out this way because it's so convenient, saves so much time not having to get somewhere or schedule in a class and during this year with COVID, it didn't affect my workout schedule and fitness very much as I was able to do everything from home.
3. Lastly, my third health hack is to plan your week out.
I like to do this on the weekend to set myself up for the week, but I do a review of everything I have coming up for the week ahead and I make sure it's in my diary if it isn't already.
Now this could be, appointments for you or the kids, any activities the family or kids have on, any deadlines you have for work or tasks due, any celebrations or things you need to get or have done. They all get put in.
Then I like to add in my workouts and block out time for them. Now, you could block out time for your workouts and for meditating or journaling or meal prepping. Whatever you like.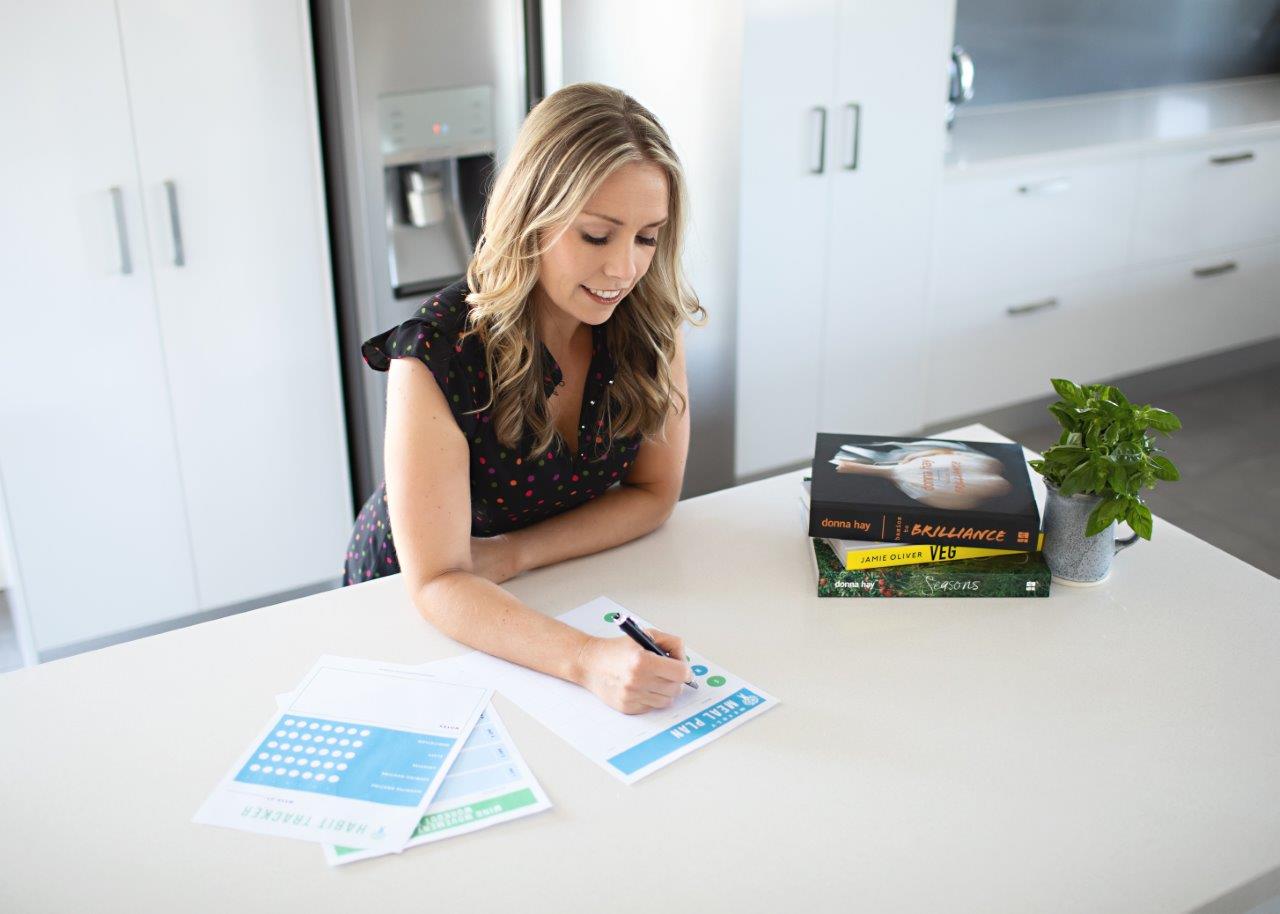 This bit of planning takes about 15 minutes most weeks, sometimes a little more and more often less. But I love this as it sets me up for the week. I can see what's happening and on what day's I' going to need dinner prepared as I'm busy with work or the kids and it helps me save time as I know when and what I'm doing for my workouts so I'm not going to waste time thinking what I am going to do, how long will I work out, when will I fit it in.
It's scheduled in so it's going to happen, and I know I'm going to feel good and waste less energy and brain power as I won't have to make lots of extra decisions on the fly and potential miss my workouts or not have any down time.
It's also great for seeing what days are going to require more energy and time from you so you can plan accordingly and not overload you day with too much.
And there you have it, 3 health hacks that will save you time, stress and money!
Which one of these do you do?
Leave a comment below and let me know.
Love MMH? You'll Love these-
Do you need some help on how to plan some health hacks for you and your family?
Then listen to these podcast episodes:
Episode 43 – Simply Your Routines for Success